As four of the Ireland's finest exponents of jazz guitar will assemble at this weekend's Limerick Jazz Festival, all the players will quietly remember Ireland's most famous jazz guitarist Louis Stewart who departed the world stage in August.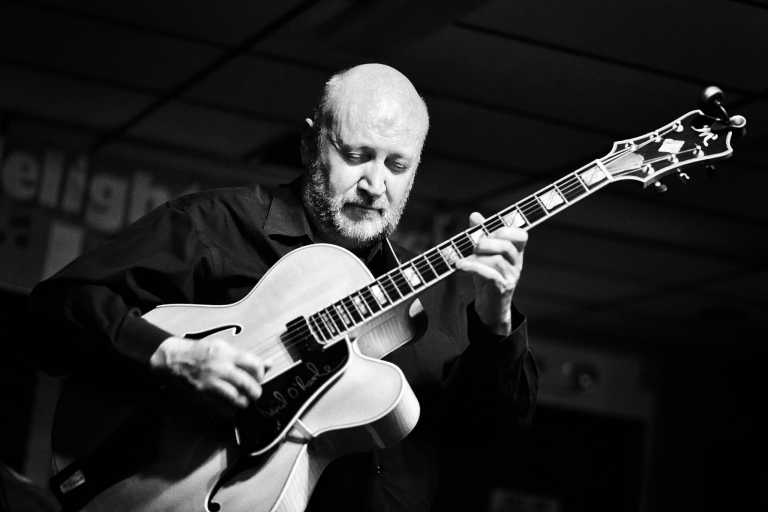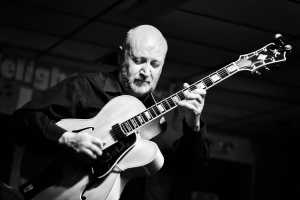 NOW in its fifth year Limerick Jazz Festival again brings together an exciting line up of home produced and international players and singers. There is also the intriguing prospect of witnessing some of the country's finest guitarists perform together.
The Guitar Masters performance brings together four of the best guitarists that Ireland has produced for a one off special concert this Sunday as part of the festival.
Guitarists David O'Rourke, Joe O'Callaghan, Hugh Buckley and Tommy Halferty will be joined by rhythm section John Daly (drums) and Peter Hanagan (bass).
Festival organiser John Daly told Limerick Post that it is unusual for four guitarists at their level to share the stage.
"These four guys have done so much for guitar in their own right and it is great to have them come together to do this. I know there is a lot of guitar players coming to the festival from Dublin and Cork to attend the gigs, some will even join David O'Rourke on stage for his own gig on Saturday."
One legendary guitarist who will be much missed over this weekend is, of course, Louis Stewart, who passed away in August.
John Daly agreed that this Guitar Masters show will be particularly poignant because when the concept was conceived earlier this year, Louis Stewart was top of the list the festival organiser had in mind for this performance.
Louis Stewart began recording as band leader in the mid-'70s, making and contributing to dozens of albums. During his lifetime has worked with Benny Goodman, Tubby Hayes, Ronnie Scott and George Shearing to name just a few.
All the guitarists performing this Sunday were tutored, have played with and became friends with Stewart over the years and his recent passing is very much in mind and he is missed by his friends in music.
With these four quality guitarists sharing the stage on Sunday, John describes it as "fitting" that Louis Stewart will be remembered in some way.
"But I am not going to make a big deal out of that because I think it is too soon."
"Louis loved coming to Limerick. and was very attached to what was happening in jazz circles in Limerick city. He didn't like this high profile stuff. He was a real humble guy who just loved his music. He was at a level that was frightening. He helped to pull the rest of us up a notch or two."
Limerick Jazz Festival has plans in place to celebrate Louis Stewart at next year's festival.
The Guitar Masters Concert happens at Dolan's Warehouse from 2.30pm this Sunday September 25 as part of Limerick Jazz Festival.
Also on the programme is Latin jazz-fusion eight-piece Atchere and The Limerick Improv Little Big Band.
David O'Rourke will give a jazz workshop with members of Music Generation on Saturday 24 at 11.30am and at the Hunt Museum at 2.15pm.
The Limerick Jazz Festival runs from Thursday 22 to Sunday 25 with performances by Partisans, Atchere, David O'Rourke and the Dublin City Jazz Orchestra to name a few.
Four Guitar Jazz Masters
US based Dubliner David O'Rourke is artist in residence for the festival. In New York since 1986 he has gained a reputation as a very accomplished arranger and composer. He has played with Les Paul and Bucky Pizzarelli and studied with legends such as Barry Galbraith and Pat Martino. He leads his own 20-piece band, The O'Rourkestra and regularly performs in New York's jazz clubs.
Joe O'Callaghan needs little introduction. This homegrown accomplished composer and arranger is also a top class educator.
He will be  playing with David O'Rourke for the first time this weekend.
Hugh Buckley and the Buckley family have been at the forefront of Irish jazz for more than 30 years.
He is a formidable force on the Irish guitar scene and runs a regular guitar night in Dublin at JJ Smyths. Hugh has been a longtime friend of David O'Rourke's and is looking forward to the show this week and an opportunity to play onstage with him.
Derry born Tommy Halferty took Jazz Guitar lessons with Louis Stewart in the '70s.
This world class jazz musician has travelled the world and played with Lee Konitz, Benny Golson, Ronnie Cuber, George Mraz, Dave Liebman and Martial Solal.