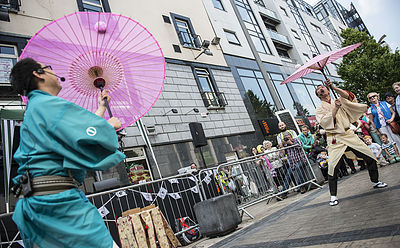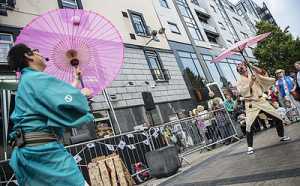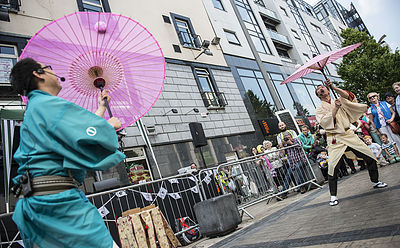 Elemental, the family-friendly award winning, arts festival, returns to Limerick city this weekend. Established in 2012, the festival, which follows a green ethos, was set up to animate the city and showcase the arts in all guises.
Supported by the Arts Council, Elemental is a rich mix of street art, theatre, film, workshops, music, street performance, visual art and a lot more family-friendly events taking over the city streets between the 8th and 10th September.
Many of the events are free and organisers have lined up a weekend programme that is engaging and inspiring where everyone, be they young or old can find something which appeals to them.
Weekend long events include Foxfire (Mumbai-based artists who create intricate paper sculptures), Interactive Walking Tours and Scenes of Limerick, which gives a glimpse of Limerick life captured in archive footage.  Pigtown – Culture and Food Series also continues.
On Friday a performance of 'Joyced' will take the audience on a whirlwind tour of Joycean Dublin, the Elemental Live Stage in association with the Irish World Academy of Music and Dance will perform a special showcase of music, dance and song, while there will also be a series of documentaries shown in the Millennium Theatre.
The city centre streets, Limerick City Library, The People's Park, The FabLab, the Hunt Museum, Ormston House and the Milk Market will be the scenes for family-friendly events across Saturday.
TAPAS (Theatre, Art, Poetry, Audio and Street) will be popping up at various street corners around the city centre while children will be fascinated to know about 'The Little Boy who lived in a grave'.
There is an open day for Open Source prosthetics, a flower cup workshop, Learn-It Lego workshop and an Aardman Model making workshop for adults and children.
Festival goers will be able to sashay down the Runway of Fun on Bedford Row, dodging the Pirate Queen and climbing Ireland's Tallest Mobile Climbing Wall as you go.
On Sunday the focus will switch to Cecil Street where events throughout the day will celebrate one of Limerick's Georgian gems.
The curtain will come down on Elemental 2017 with a screening of some Brown Bag Shorts followed by a Q&A at University Concert Hall on Monday.
Jennifer Allen, who along with Alan Hogan and Pius McGrath founded of Elemental said: "We are happy to be back again, featuring some old friends who have participated from year one, along with some new artists and performers who are bringing their unique style to the programme."
"We've got support from wonderful organisations this year, such as the JP McManus Benevolent Fund and the Ireland Funds.  This has meant we can commission works from community groups, giving them a platform to showcase what they do to a broad and diverse audience which is a key objective of the festival."
Alan Hogan added: "We really want to see people come out in big numbers to enjoy what we have put together."
Technical Manager and co-founder, Pius McGrath, relishes the opportunity to use cutting-edge technology to shine a light on Limerick's rich history.
"We are using Beacon technology to create a historical trail around the city, accessible through an app on your phone.  Mixing the old with the new has been something we've incorporated into the programme in different ways each year, to create maximum engagement for the audience," he said.
For more information of all the events taking place for Elemental, Limerick Arts festival, go to www.limerick.ie or www.elementalfestival.com