Irish professional boxing is going through a golden era with dozens of fighters joining the paid ranks in 2017.
However, up until recently, Limerick had but just one professional boxer – former WBO middleweight champ Andy Lee. Now though we finally have a new entry the pro scene from the Treaty City as light middleweight Graham McCormack O'Shea has signed up with Boxing Ireland Promotions.
The southpaw slugger will debut next month, fighting at the National Stadium in Dublin on the Celtic Clash 4 card – the largest in Irish boxing history. Headlining the bill on Saturday, December 2 will be former top amateur and RTÉ pundit Eric Donovan who defends his BUI Celtic featherweight title against Juancho Gonzalez, while there is a local grudge match between Dubliners Crank Whitehouse and Jay Byrne for the BUI Celtic welterweight belt.
Sign up for the weekly Limerick Post newsletter
An amateur with Corpus Christi, McCormack O'Shea believes that, at 30 years of age, he is ready for the pros.
"My amateur career was a stop-start kind of experience. I started when I was 15, took a break at 19, went to Australia, then went back at 22, took a break again until 25, went back for a year, then took a break until last year when I got my head screwed on right and focused properly.
"I've won Munster league titles, I won last year's Munster Senior title at 81kg and was beaten at the Nationals.
"I made the decision to turn professional now because this is what's right for me. I believe in myself and that this is the path I've been put on. Even when I was taking breaks, I was still around boxing and sparring and stuff. It's always been a part of my life, I love the sport. I was in and out of boxing for a long time but I wasn't focused until last year. That's another reason I've turned pro, I am one hundred per cent focused on this."
McCormack O'Shea is putting everything into boxing and recently spent some time training in Manchester with Kieran Farrell.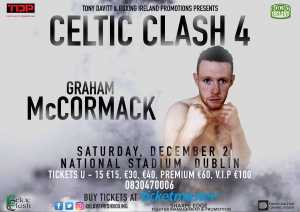 Dublin will be his base in the pros and he has linked up with former Irish champion Eddie Hyland in Rathcoole as well as Tommy McCormack – who acted as cutsman for Conor McGregor during the Summer at the Floyd Mayweather fight in Las Vegas.
Hyland, the eldest of three professional Irish champions, was known in his fighting days for his fan-friendly, aggressive style, and McCormack O'Shea is an eager pupil.
"I'm up in Dublin three times a week with Eddie Hyland and Tommy McCormack. I believe I have a great coach in Eddie who has really helped to adapt to the pro style. My fighting style, I am a southpaw boxer who has good movement – but also likes to get into a tear up. I have a lot to learn about it, but I have a great teacher to learn from in Eddie and I'm confident I will learn everything I need from him. I'm really glad I'm with Team TNT."
McCormack O'Shea's entry into the pros has certainly attracted attention, with huge online interest and feedback.
"The reaction since I've turned professional has been great. I'm overwhelmed by the support that I've gotten from everyone in Limerick it's been great, they've all gotten behind me in a big way and I'm grateful for it. I come from the greatest city in the world.
"My plan is to learn everyday that I'm in the gym and with every fight I have. I absolutely love boxing and this opportunity that I've been given. I'm going to take it one fight at a time I believe in myself and my team and I am looking forward to this journey. I'm really looking forward to December 2, can't wait to get in and do what I do best," he said.
See more sport here