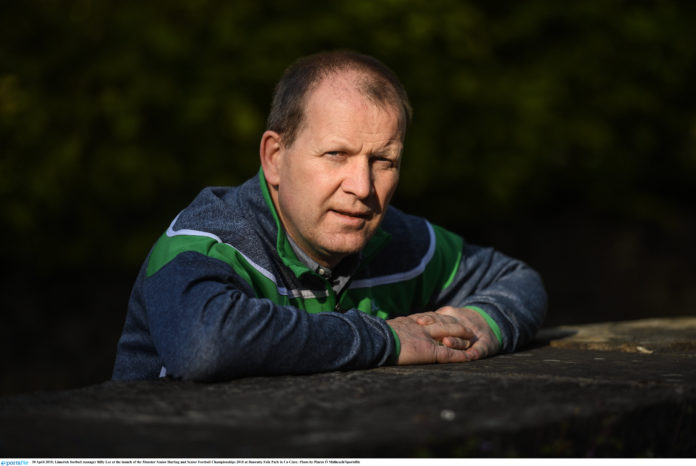 ONLY A SHORT few years on from an historic All-Ireland Senior Football Championship quarter-final appearance, a single win would satisfy Limerick this Summer.
In a likely low-key scenario Billy Lee's side host Clare in the opening round of Munster at the Gaelic Grounds on Saturday evening (7pm), with the winners advancing to a provincial semi-final with Kerry at Killarney's Fitzgerald Stadium next month.
The losers will enter a qualifier route on June 9 with only the remotest chance of making it to the first ever 'Super Eight.' The banner plied their trade in Division Two of the NFL while the Shannonsiders struggled hugely in the basement tier.
Limerick lost many great players at the start of the years due to retirement, among them Johnny McCarthy and Seanie Buckley, post recent past captains and genuine on-pitch leaders. In an apparent lack of interest among many, lots of new exciting talent has been drafted by the squad.
"These lads have talent," Lee insisted. "A lot of it comes from the 21 teams from the last three years that were so competitive in the Munster Championship and people quickly forgot about that. The talent is there but when you make the step up to senior inter-county it's a different challenge. These lads will come good. I have no doubt about that."
Monaleen's Donal O'Sullivan will captain Limerick from goal, with other guaranteed first-team starters to include Garrett Noonan, Darragh Treacy, Jamie Lee, Danny Neville and Seamus O'Carroll. Iain Corbett is set to make a shock return for the Clare game after recently returning from a spell in Lebanon with the defence forces. He has captained Limerick for the last two years.
David Tubridy is just one player, for example, that Limerick must keep under lock-and-key to prevent him damaging early-on the prospects of any upset. Noel Mooney of Cavan will referee.
Visit the Limerick Post Sport section for more sport news.