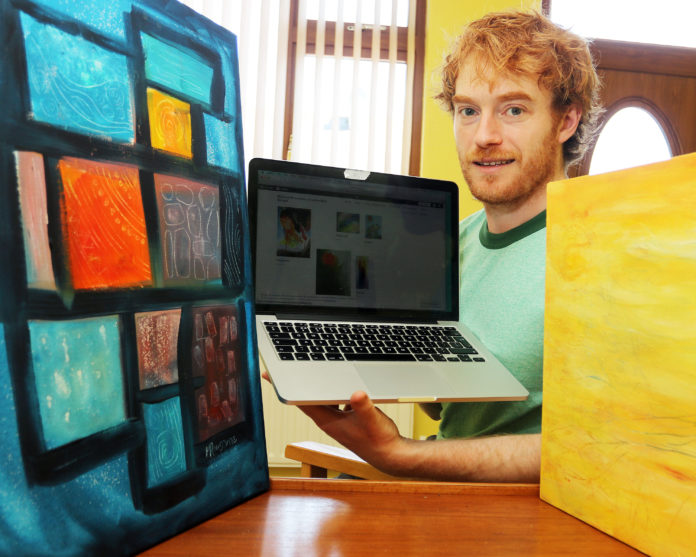 "IT was absolute Hell," is how Michaél Rowsome describes life at home when he and his elderly father gave up everything to care for his mother, who descended into dementia and needed care 24/7.
A young artist, Michaél (34) was living the life in an arts space in Berlin, working creatively and enjoying the challenges and inspiration of one of Europe's most happening cities.
"I came home for Christmas in 2014 and I was really shocked at how my mother had deteriorated. The terrible thing was, she really believed everything was fine and my dad was under terrible pressure to look after her," Michaél told the Limerick Post.
"He was hospitalised with a heart attack an I realised I had to come home full-time, so I went back to Berlin and packed everything up".
Hoe in Newscastlewest, that was the start of a two and a half year nightmare for the family as Kate Rowsome went downhill without ever understanding what was happening and fighting all the way.
"It was incredibly tough. Some people with dementia can be very calm, happy in their world. mam wasn't – she was so agitated and hyper all the time. If we didn't lock the doors, day or night, she would get out and we had no notion where she might go, If we did lock them she would go climbing the walls trying to get out the window. There were nights in the lashings of rain that she went missing and we were running up and down, knocking on doors trying to find her. There was never a moments peace".
It didn't help that it was a very long time before the family had any kind of diagnosis of Kate's problem. "A close friend of hers persuaded her to make a hospital appointment. We really hoped that would help her accept there was a problem but when she came back, she literally danced in the door and my heart sank. She said the doctor said there was nothing wrong".
Michaél and his dad were caring for Kate full time and paid for help one hour a day "but we were on duty for the other 23 hours."
The family didn't get help with a personal assistant because Kate was still able to dress and wash herself.
At one stage, Michaél contacted the public health nurse to come and see his mother, hoping she might understand how difficult it was to care for her. 'But she said that without a diagnosis from a doctor she could do nothing. That was a really lonely moment. This was the public health services saying, you're on your own".
The family struggled on without even a day's respite care for two and a half years. "In some ways, mam was still 'with it' and it was very difficult to make anyone understand what was happening. We just didn't have the energy to cope with filling out forms and fighting with bureaucracy – you don't have the energy for it. You're just trying to survive day-to-day".
The one day a new district nurse turned up at the house, having been alerted to the situation by a friend of the family and respite was arranged.
"The district nurses did a stress test on me and she said I was off the scale. After mam went into respite we realised we couldn't cope anymore. My dad said he couldn't go back to the way things were. Something was just broken in us. That was so hard for him to say and it's a hard thing to put someone you love into care".
Kate went into full-time professional care shortly afterwards but Michaél and his dad are still dealing with the fallout.
"I was grieving for losing my mother and having to leave her in a home was dreadful. I visit and she hanging on to me, asking me to take her home As a son, it's very difficult to walk away and leave her there but I just couldn't go on".
"You'd be scarred from it (full time caring). We had no time to grieve for her while we were caring for her and there's no support for carers around that area, that loss.
"My main message to carers is, ask for help and accept it. You can't cope alone".