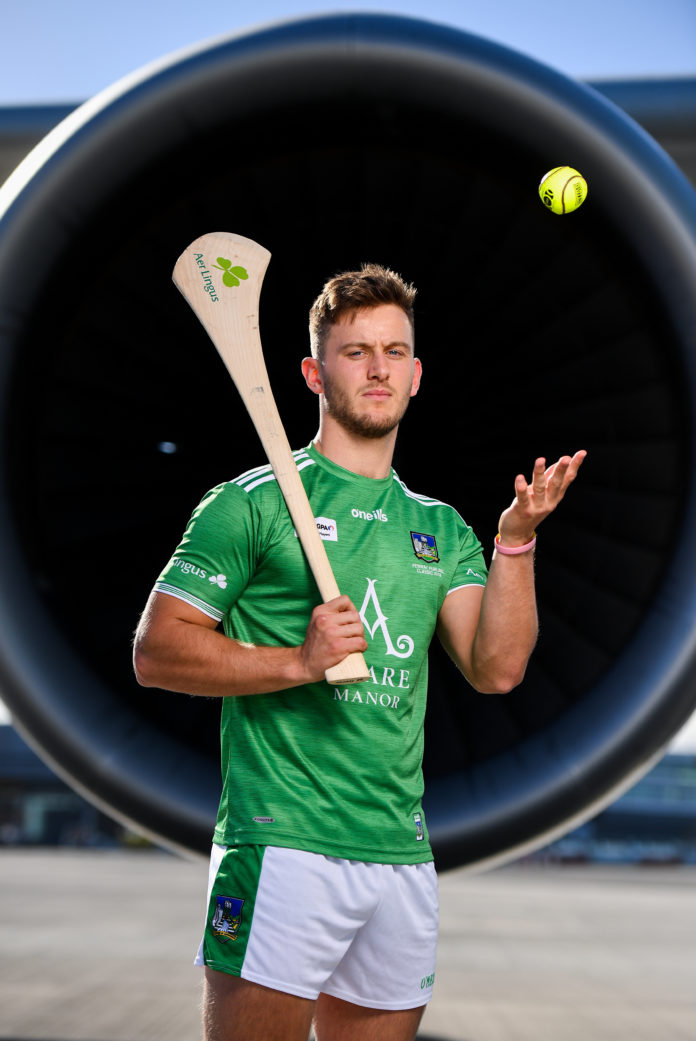 A one-of-a-kind customised Limerick playing kit has been unveiled for the Fenway Hurling Classic which takes place at Fenway Park in Boston on November 18th.
Representatives from Clare, Cork, and Wexford were also in attendance at the Aer Lingus Hangar 6 at Dublin Airport this morning where Aer Lingus, in partnership with the GAA and GPA, for the launch of the jerseys which will only be worn for the Boston based competition.
The specially commissioned O'Neill's jerseys have several unique design features which make them stand-out from the four counties' regular playing kit. These are:
Aer Lingus logo featuring on the jersey sleeve, GAA/GPA crest on front of jersey at opposite side to county crest and 'Fenway Hurling Classic 2018' embroidered text under county crest.
Limerick's Tom Morrissey, Clare's Podge Collins, Cork's Daniel Kearney, and Wexford's Conor McDonald were the first players from their respective counties to have the opportunity to road test the jerseys at today's launch which was also attended by Aer Lingus Director of Communications Ruth Ranson and GPA CEO Paul Flynn who was back in familiar surroundings having previously worked with Aer Lingus.
The Fenway Hurling Classic will see All-Ireland hurling champions Limerick compete against reigning holders Clare, Cork and Wexford in the Super 11s format. It will involve two semi-finals lasting 40 minutes with the winners proceeding to the final on the same day, Sunday November 18th.
Aer Lingus will once again be the Official Airline of the event and will be responsible for flying the four teams to Boston. Aer Lingus is Ireland's only 4-Star airline and has been involved in the two previous occasions that hurling has been played at Fenway Park in 2015 and 2017.
Speaking at the jersey launch Ruth Ranson said; "It was great to get a first look at the jerseys today and we're delighted to see the Aer Lingus logo featured on the sleeve.
"Aer Lingus' mission as the leading value carrier across the Atlantic is rooted on continuing to grow our longhaul network, having recently announced two new route announcements, Dublin Montreal and Dublin Minneapolis-St Paul beginning summer 2019. Now serving 15North American destinations creating a strong brand presence on that market is a key focus for the airline. Our support of the Fenway Hurling Classic gives Aer Lingus the unique opportunity to standout in one of our most prominent US cities. Boston is a hugely popular destination for us on both sides of the pond and we look forward to welcoming the four squads on board in November."
Paul Flynn added; "Super 11s Hurling has been an opportunity for trying new innovations on and off the pitch since 2013. By its nature Super 11s is innovative but there have also been a series of other experiments and changes. These unique jerseys are another sign of the willingness of both the GAA and GPA to work together to advance our games.
"We'd like to thank Aer Lingus, who we are delighted to have as the Official Airline of the event, for all their support and for enabling us showcase the art of hurling to a wider audience as well as providing a conduit to strengthen our business, sporting and cultural ties with the city of Boston and Ireland-US relations in general. A final mention to our players, who continue to be great ambassadors for our games both here and internationally and who are no doubt relishing the opportunity to display their skills in one of the most iconic sports stadiums in the world."
Uachtarán Chumann Lúthchleas Gael, John Horan said; "The Fenway Hurling Classic will come into sharp focus in the coming weeks as the preparation ramps up in the four competing counties.
"I'd like to acknowledge the support of Aer Lingus, highlighted here today and on the bespoke playing gear the players will wear for the games in Boston.
Best of luck to all involved, not least the players who I have no doubt will embrace the experience fully."
The Fenway Hurling Classic will begin at 12.30 p.m. ET on November 18th and it will feature a lively Irish festival complete with food, music and dancing. Over 30,000 attended the event in 2017 and tickets are now on sale at www.redsox.com/hurling. All three games will be broadcast on TG4 and GAAGO.
The post Revealed: New Limerick Jersey For Fenway Classic appeared first on Sporting Limerick.