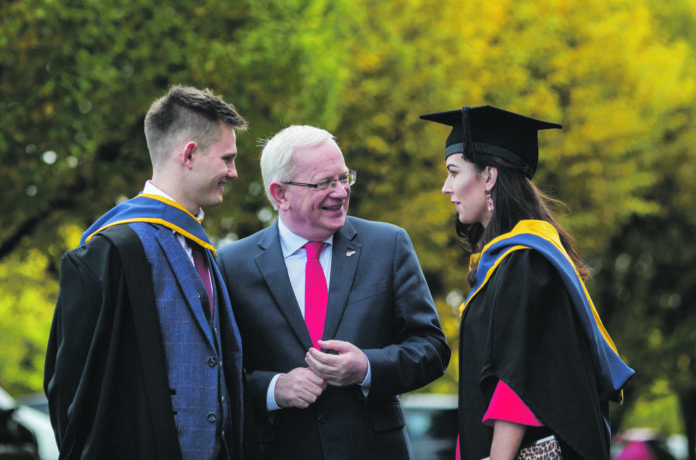 LIMERICK Institute of Technology (LIT) President Professor Vincent Cunnane has challenged the validity of the current blueprint for Irish third level education – the seven-year-old Hunt Report.
At the opening of the LIT conferring ceremony at the Moylish Campus on Wednesday, Professor Cunnane questioned whether the blueprint published in 2011 is still relevant for the sector and the challenges it now faces.
He also revealed the Higher Education Authority's 2017 Graduate Employment Survey shows that 95 per cent of last year's LIT graduating class either went directly into employment or further study.
"That means that only five per cent were looking for employment after graduation. This is particularly significant when compared to the national youth unemployment rate of 13.9 per cent," he said.
"And it's not that people are going into poorly paid jobs in other parts of the country, or that they have to emigrate. The average salary for someone graduating from LIT last year was just over €26,000, with one-third of those graduates on a salary of over €30,000 per year. About three-quarters of last year's LIT graduates are working in Limerick, Clare or Tipperary.
"Results like this do not happen by accident. They happen because the staff of LIT work hard to deliver an education that makes students as work-ready as possible. LIT graduates are plugged into the economy," he told the class of 2018.
"This creates a virtuous cycle. You get good jobs, and employers invest here in the Mid West because you have the skills, the knowledge and the attitude that the modern workplace needs."
Prof Cunnane explained that in order to ensure that LIT graduates are prepared for a changing workforce, the staff at LIT challenge themselves every day to progress and develop courses to meet the demands of industry.
Many of these ambitions and targets are set out in LIT's Strategic Plan, launched this year, which puts it on a trajectory to become a Technological University, underpinned by the values of support, accessibility, equity, innovation and excellence.
The Hunt Report outlines Government policy which includes the imperative that institutes of technology should merge, face more international competition, and fundamentally change.
Prof Cunnane questioned, "If 95 per cent of our graduates are in employment or further study, if students are coming to us from diverse backgrounds, if we are retaining more students in college, if we are keeping people here in this region, I want to know what we are doing wrong and why we must change so fundamentally?
"We work for you, your communities, our regional economy and our society. We are delivering."
He called on newly appointed Education Minister Joe McHugh to review the Hunt Report "in light of the environment we find ourselves in today."
"The reality is that the challenges this sector faces are very different from when the Hunt Report was published. The biggest challenges to us lies in a policy written in a different time for a different country," he said.
Approximately 1,600 students from LIT will graduate over a five day period in diverse areas ranging from fashion design to marketing; engineering and construction to animation and motion design; and social science to hospitality.
Congratulating the graduates and wishing them well in their future careers Prof Cunnane said, "You have received your education from an institution whose roots in technical and artistic education go right back to the foundation of the Limerick Athenaeum in 1856. You now join a long line of graduates who have gone before you to take their place in society and to help mould it.
"You graduate with the knowledge that you have a good education and knowing you have an internationally recognised and respected qualification. I know the staff here are proud of you. I am proud of you. I hope you share that pride, and that your families and communities do too," Professor Cunnane concluded.
Tom McCullough
[email protected]