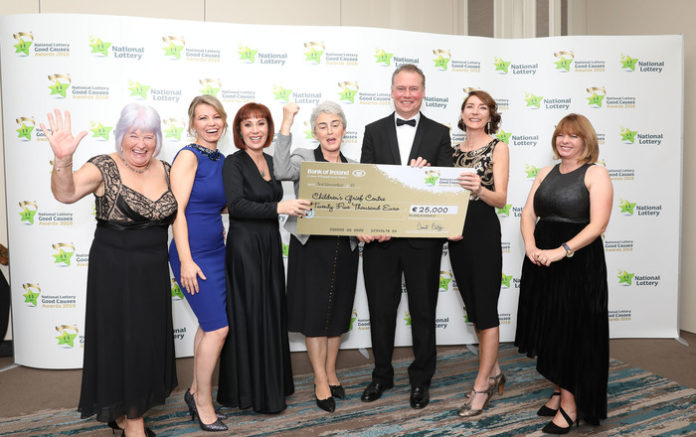 An inspiring Limerick charity which supports children who suffer loss from bereavement, divorce or separation has been named the National Lottery Good Cause of the Year 2018.
The Children's Grief Centre in Limerick scooped the overall National Lottery Good Causes Award 2018 and the Youth Category at a gala event in Dublin on Saturday. The new Awards are aimed at honouring the extraordinary work impacting on communities all over Ireland thanks to National Lottery Good Causes funding.
As overall and category winners the Centre receives €35,000 in prize money which will go towards supporting its services.
36 finalists from all over Ireland gathered for the glittering Awards dinner in the Clayton/Burlington Hotel in Dublin which was hosted by TV presenter Karen Koster. The Awards was filmed for broadcast on Virgin Media One on November, 11 at 9.30 p.m.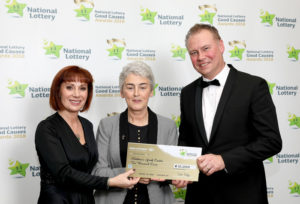 Presenting the Children's Grief Centre in Limerick with their prize for winning the overall National Lottery Good Cause of the Year, Minister for Culture, Heritage and the Gaeltacht Josepha Madigan said: "Loss, whether through death, separation or divorce, can be devastating, especially for the young. This award goes to the Children's Grief Centre for its extraordinary work providing comfort and support to grieving children. Its committed volunteers work tirelessly all year round to provide an oasis of calm for those who have lost loved ones, helping them find their voice.
For almost a decade the volunteer-led Children's Grief Centre in Limerick has been giving children who have suffered loss a voice. The only such service in the country the Centre has grown in demand since it set up in 2009 offering unique one-to-one support sessions. To date it has given a voice to around 1,200 grieving young people.
The children who visit the centre are given the opportunity to work through their feelings and are empowered to find their voice using play, art, clay, workbooks stories and much more. In working with children and young people, the centre is also supporting parents and guardians.
National Lottery Good Causes funding allowed the Children's Grief Centre to meet the growing demand for its service in Limerick City and County, and in the neighbouring Counties of Clare and Tipperary.
Funding enabled it to develop a sophisticated database ensuring children and young people's information is kept securely and appointments are set promptly. The Centre also used funding to buy materials for the 'Teen' and 'Art" rooms, precious spaces for children and young people who attend for support.
Sr Helen Culhane of the Children's Grief Centre said: "We are overjoyed to receive this reward. Children often find it difficult to express their feelings through language so by providing them with clay and paint, sand and crayons, we allow them to choose their own form of expression. The impact of this work with children is incredible. As a result of attending the Children's Grief Centre it has been shown that children are happier, more calm, and have less feelings of anger, guilt and sadness."
More than 30 cent in every €1 spent on National Lottery games goes back to Good Causes in the areas of Health, Sport, Youth, Community, Arts & Culture, Heritage and the Irish Language. Last year alone €226 million was raised for Good Causes by players of National Lottery games – or an incredible €620,000 a day.
Since the National Lottery was established over 30 years ago players in Ireland have helped raise more than €5.3 billion for Good Causes, funding which has shaped the development of modern Ireland.
National Lottery CEO, Dermot Griffin congratulated the Children's Grief Centre on winning the overal prize: "It is fitting that Ireland's unsung heroes who work quietly under the radar to improve lives and make a difference are honoured in these inaugural National Lottery Good Awards. Their work often goes unrecognised – but it is so valued."