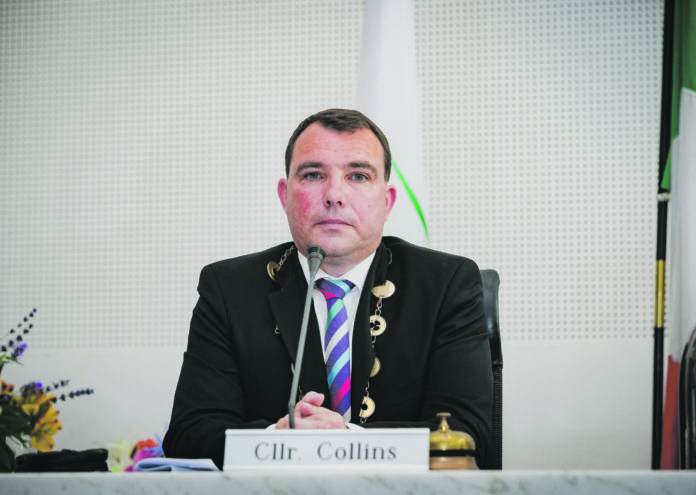 MAYOR James Collins has called on the Environmental Protection Agency (EPA) to hold a public oral hearing on the health implications of Irish Cement's €10m plans to phase out fossil fuels in favour of burning used tyres and waste material at its Mungret plant.
The Fianna Fáil general election candidate made his call this week following the latest fine imposed on Irish Cement for a dust spillage at the Limerick facility.
"We are talking about houses and cars being covered in a 'glue-like' limestone dust which came from Irish Cement's plant. It doesn't take a genius to figure out that if cars and houses can be covered in this sticky glue, then thousands of people in one of Limerick's largest suburbs are breathing in the same toxic substance," he said.
"Irish Cement has been prosecuted four times now since 2016 in relation to breaches such as this. The EPA's inspector was clear and unequivocal — this was environmental pollution. The inspector said last week that people in nearby housing estates are considering moving to save their health.
"We are not talking about a handful of dust here, or a handful of complaints. We are talking about 21 complaints from neighbouring housing estates after 2.5 tonnes of waste splurged from the chimney stacks at Irish Cement, when a blockage in the kiln was cleared."
Mayor Collins feels that people can no longer be expected to sit back and blindly accept Irish Cement's assurances that they will do their best to stop this happening again.
"We can't sit back and allow Irish Cement proceed with its incineration proposals when clearly there are huge public concerns about emissions from the Irish Cement plant in Mungret carrying on the wind for a radius of 20km. We are literally talking about the health of thousands of people in Limerick.
"We've had an oral hearing on the planning issues surrounding Irish Cement, but we haven't had an oral hearing publicly dealing specifically with the health implications of allowing incineration at the Mungret plant. The HSE didn't even give testimony to the last oral hearing. Surely now, they can see this is a public health issue of major concern."
The City West representative also claims there is a lack of oversight with no-one doing baseline monitoring of emissions from the plant. He warned that Irish Cement is an environmental and health time-bomb that could have serious implications for thousands of people in Limerick, not just those living in the immediate vicinity.
The €10 million development plan sees Irish Cement bidding to replace fossil fuel, used on site for cement clinker production, with alternative fuels to improve the sustainability of the Limerick operations, where 80 people are employed. The Limerick site is currently the only cement plant in Ireland not licensed to use alternative fuels.
"This plant is located in an area where we are master planning hundreds of new houses, new sports and community facilities. Are we really going to leave the residents there literally living under a cloud?" Mayor Collins asked.
A spokesman for the EPA said an oral hearing can be requested after they issue a proposed decision.
"We have issued a further information request to Irish Cement and we expect to make a proposed decision once this further information has been returned," he concluded.