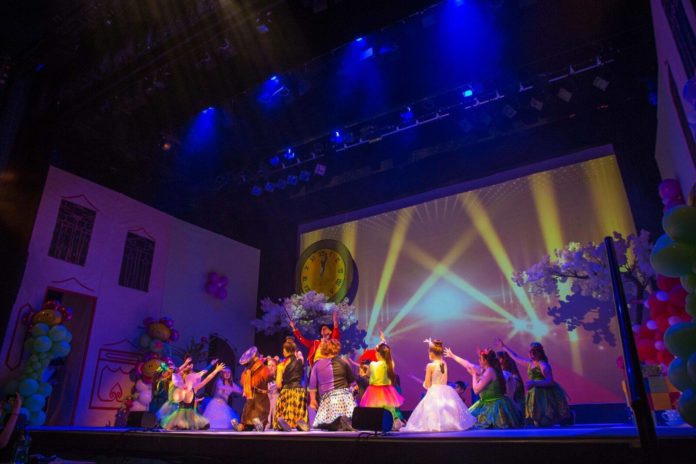 FOR more than three years, Limerick based Gemstar's School of Performing Arts has nurtured the artistic talent of young people from all over the Mid-West region.  The school operates out of various sites, in Caherconlish within the fantastic facilities of the Millennium Centre; at Crecora in the spacious school hall and at Ballysimon's Delta Sports Dome.
Founding directors Emma O'Driscoll and Georgina O'Driscoll oversee their young Gemstars development carefully, leading the way for pupils to develop self-confidence, self-expression and personal development through the medium of drama, singing, dance and stagecraft.
While singing, drama and dancing play a key role in the running of classes, Gemstar's School also places emphasis on the social aspect of the school where many pupils build lasting friendships.
Each year Gemstar's stages an annual production in Limerick's professional Lime Tree Theatre. "This year will be our fourth production. It is the highlight of our school year and the standard is getting higher every year." 
Meet Emma O'Driscoll and Georgina O'Driscoll
THESE sisters are no strangers to the world of performance, having trained for over a decade with Shape Dance School followed by High Voltage.  They were part of the Dominican Choir for more than 10 years under the direction of Madeleine Meehan and were also part of the traditional group Samhlaíocht. They performed in both Adare Manor and Dromoland Castle for a number of years.
Emma continued on to sing with the Bunratty Singers.  Georgina took part in Cór na nÓg the National Children's Choir for years and performed as part of an ABBA tribute band.  The O'Driscolls won dancing titles in both All-Ireland and European competitions as well as numerous awards and medals in singing at Féile Luimní, and speech and drama through the Irish Board Of Speech & Drama.
Gemstar's School is certified in the area of NLP. This enables them to work with the children more effectively as it creates a positive and respectful environment through learned experiences.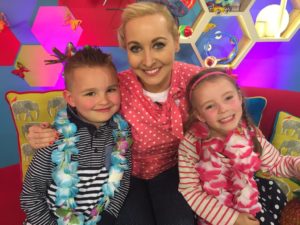 Emma O'Driscoll
EMMA O'Driscoll is a well known household name and veteran of the television world, having presented children's television for a decade with RTE Jr and the well known children's programme 'The Den'.  Throughout this time she wrote and presented countless scripts, stories and songs for young people and pre-schoolers. She wrote dance and music series encouraging health, fitness and the performing arts for the children of Ireland.
She has also appeared on many entertainment programmes for RTE including 'The All Ireland Talent Show' where she was a judge with John Creedon for the southern auditions. Emma extended her presenting to the radio waves, starting out in Limerick's Live 95Fm where she co hosted the breakfast radio and had her own Saturday night programme, continuing her love for radio with RTE Jr Radio.
Emma enjoyed huge success in the music industry.  She shot to fame as a member of SIX that were formed from RTE reality tv series 'Popstars' 17 years ago this February.  SIX released multi platinum selling singles and did an arena tour with Westlife throughout Ireland the UK and Scandinavia as well as nationwide tours.
Emma has been leading lady with Limerick Panto Society for a dozen years. At Christmas she played the title role in 'Alice in Wonderland' in 14 sold-out shows in Lime Tree Theatre under the direction of veteran Tony Cusack.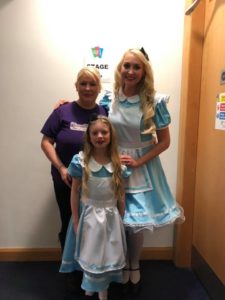 Georgina O'Driscoll
GEORGINA has more than a decade of experience of working with young people in the public educational sector.  Having worked in both the early years and national schools she brought her artistic and creative flair to the classroom.
She has designed and implemented a number of summer camps at national school level.  She holds a full certificate in Childcare and a Certificate in Special Needs,  has a degree in Early Childhood Education and has a B. hons in Applied Social Studies in Social Care.
Georgina received the highest mark in her degree earning her the top award for Overall academic excellence.  She carries out research in the area of childhood anxiety – an important area for working with young people. She has worked as a learning support tutor to students on the Social Care course in LIT, making her a fundamental asset to Gemstar's.  Her child centred approach combined with high educational attainment play a key role with making this children's performing art school the success it is.
 Classes and categories
Mini Gems: 4-6 year olds.  Our Mini Gems classes are specifically geared to children in Junior and Senior infants.
Junior Gems: 6.5 -9 years old.  Our Junior Gems classes are specifically geared to children in 1st, 2nd and 3rd class of primary school.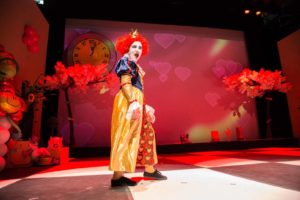 Senior Gems: 9-18 years.  Our Senior Gems classes are specifically geared to children in 4th class of primary school up to 6th Class and from 1st year onwards in secondary school.
Each term students work on a variety of styles in drama, stagecraft, dance and song.  All classes are carried out in a fun and safe environment, encouraging students to immerse themselves in the performing arts that have many benefits helping with confidence, social and creative development.
"We are constantly introducing new material across the board and keep classes fresh and exciting for all. We also see students discovering talents, excelling in performance skills and others overcoming shyness or a lack of confidence.
"Children amaze us with their capabilities and their personal achievements everyday."
As young Gemstars, students get to explore a number of different modules; for example the Mini Gems take part in a dress up drama class.
"It is a magical class that turns make-believe play into drama," comments Georgina.  "They have numerous other exciting modules such as Rising Stars, Singing Gems, Puppetry, Disney dancing and a Popstars class. Gemstar's also has an acting academy in the run up to their show where they perfect their drama and work on an original script." 
Showtime!
THE eagerly anticipated end of year show is the highlight of the school year and affords the opportunity for all pupils to perform on stage. "It's important to us that every student gets their time to shine."  Gemstar's School annual stagework showcases their students in a production with immensely  strong values: a full set is supplied by Limerick Panto Society; professional lighting and sound as well as stage managers Sheenagh Murphy and Pat Howe; the amazing crew that includes hair and make-up artists.
Every June our Gemstars perform onstage to packed audiences at Lime Tree Theatre to a script written and directed by Emma and Georgina.  "We love to write original scripts around well known characters entirely centered around  the children in our school. "Watching the production transform from an idea on a page into a full stage production performed by our students is very rewarding."
This year they are performing a show called 'PIRATES, The Tale of THE FORGOTTEN WORLD' on June 14 and 15.
"We are currently developing this years production  and it is shaping up to be one of our best yet.  Taking part in our shows is a wonderful experience for our students and we are privileged to host these shows in the Lime Tree."
Student of the year Scholarship Awards
GEMSTAR'S School loves to award three stand-out students annually with a scholarship, 'Student of The Year'. These awards are presented at our end of year shows in recognition of the students' hard work, dedication and positive attitude.
The scholarship entitles them to free tuition in any Gemstar class for the academic year. "It is a highly anticipated part of their end of year shows, creating huge excitement for the students and their parents!" Emma tells us.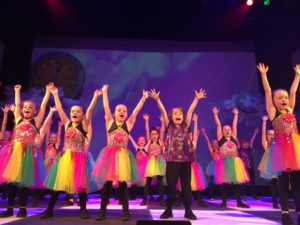 Reaching for the stars
AS WELL as taking part in the end of year shows, their very talented students have achieved in numerous areas of performance. Gemstar students have  auditioned for local productions, film and television work.
"We are very proud to say that our students were chosen for RTE JR's 'Do Ri Me' TV programme, RTE JR's 'Donnacha's Two talented', RTE JR's 'Where Kids Talk and they were also selected for RTE JR Radio as guests."
In Limerick Panto Society's production of 'Alice In Wonderland' the children performed in four of the shows alongside Emma with Ciara Conway and Roisin Hussey opening the show as a young Alice.
The school had students take part in Robert C Kelly-University Concert Hall pantomimes and children participated in Kidsfest Inspire at Crescent Shopping Centre.
At Kidsfest their students took part in a fashion show directed by the Celia Holman-Lee Agency and put on a dazzling display of song and dance to the delight of customers of the Crescent.  It was a magical day full of fun and excitement, thoroughly enjoyed by family and friends alike.
Fun Elements to The School
STUDENTS participate every year in Limerick's St Patrick's Day Parade, "a very proud day for all our students as they get to walk amongst their community and perform to the many crowds". They attend the ODEON cinema every Christmas as one big family, allowing friendships and excitement to flourish.
Excitement is really high at their end of year disco where all the children and their families get the chance to let their hair down. It's another amazing highlight that is eagerly anticipated. "Gemstar's School  has festive themed classes at Christmas, Easter, St Patrick's Day and our very spooky Hallowe'en class."
Final note
EVERY child is unique and in Gemstar's they can progress at their own individual pace. "Watching our students perform is the most rewarding aspect of teaching our classes.  They are dedicated, talented, inspiring and really hard working and they put everything into their performance."
"At the heart of Gemstar's we work with children as individuals and look upon them as being valued members of our team. We are a very welcoming performing arts school and keep our core family values at the heart of everything we do."