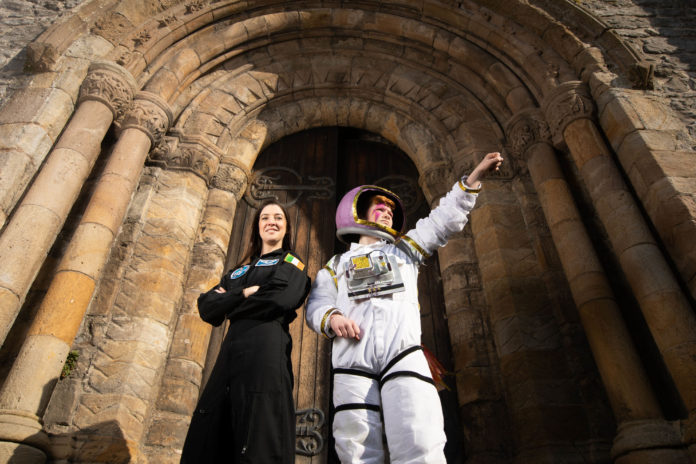 THE sights and sounds of the Limerick St Patrick's Festival will be broadcast coast to coast in the United States this weekend.
Limerick entertainers will join Travel Zoo presenter Gabe Saglie to showcase the best of what Limerick has to offer at King John's Castle through live interviews with 15 US television channels.
The biggest ever Limerick St Patrick's Festival begins on Saturday with a fireworks display from 9.30pm.
The best viewing points are Clancy's Strand and Sarsfield Bridge as the Limerick skies will be lit up in an explosion of colour.
Limerick is unique in Ireland in having not one but two parades – the traditional St Patrick's Day Parade on Sunday and the International Band Championship on Bank Holiday Monday.
The theme of this year's parade is One Giant Leap, celebrating the 50th anniversary of Neil Armstrong's moon landing and reflecting Limerick's dynamic revitalisation in recent years.
Dr Norah Patten, who is in the running to be Ireland's first astronaut, is Grand Marshal.
The parade itself promises to be a riot of colour and entertainment as around 1,000 participants from street performers and community groups will join military and emergency services in marching down O'Connell Street.
Among those who will be taking the theme of One Giant Leap and transforming it into some creative street theatre are: Lumen Street Theatre; Space Odyssey; Artastic and Spraoi.
Around 1,300 musicians from 20 bands will be taking place in the marching band championship from noon on Monday. Eight bands are travelling from the US with others coming from Estonia, Germany and Britain.
To tie in with the parade theme, the Museum of the Moon will land in St Mary's Cathedral from March 15 to 22.  A new touring artwork by artist Luke Jerram,  will bring together a fusion of lunar imagery, moonlight and surround sound.
Limerick City and County Council will provide additional car parking at its council offices in Merchant's Quay (via Nicholas Street) and at Cleeves Factory for the three day festival.
Parades are also taking part around the county on St Patrick's Day in Abbeyfeale (4pm); Askeaton (2pm); Ballylanders (3pm); Bruff (2.30pm); Castleconnell (noon); Herbertstown (11.30am); Kilfinane (2pm); Kilmallock (1pm); Newcastle West (3pm) and Rathkeale (12.30pm).
Other events taking place for Limerick St Patrick's Festival include:
Panoramic Wheel at Arthur's Quay Car Park (March 9 to April 21);
St Patrick's Weekend Unlocked at Limerick Milk Market (March 16 and 17);
St Patrick's Day at the Hunt Museum (free admission on March 17);
St Michael's Rowing Club – Head of the River Regatta ( March 16).
Laura Ryan, Head of Marketing & Communications with Limerick City and County Council said that the presence of a US television crew was a fantastic opportunity to get international exposure for Limerick.
"It's all very exciting particularly as we get to launch our new international Limerick brand later this year."
"This year's Festival will be one of the largest ever held in Limerick with a carnival atmosphere promised for the weekend which begins with a not-to-be missed fireworks display on Saturday evening."
"This year we have done a huge amount of promotion of our three-day St Patrick's Festival.  The weather's looking up and with a huge number of family friendly events on the programme, there's nowhere else to be this weekend, so why not wrap up warm and soak up the unique atmosphere of Limerick during the festival as there is so much to do and see."