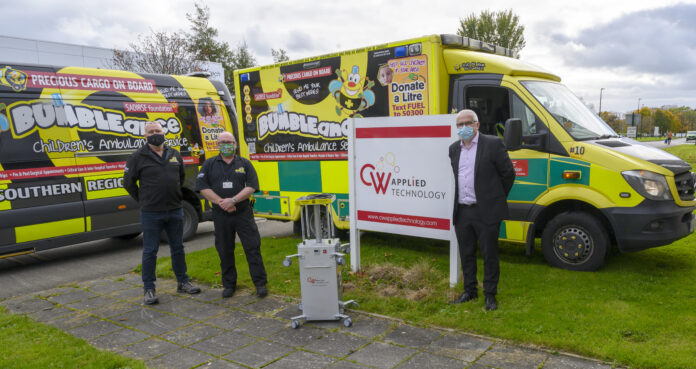 THE SPECIALIST children's ambulance service BUMBLEance has had its work environment made safer from Covid infection, thanks to the generosity of a Shannon company.
Helping BUMBLEance with their invaluable work, CW Applied Technology donated one of its Room  UV Sterilisers, the Muv-X, which it developed and manufactures at its plant on the Shannon Free Zone.
BUMBLEance is the world's first ambulance service specifically designed and tailored for children, aged from new-borns to 18 years old.
"We are thrilled to be associated with John and all the team at CW Applied Technology and we will use their equipment to bolster our cleaning routines to keep our BUMBLEances safe for our King and Queen bees" said Tony Heffernan of the Saoirse Foundation.
When Tony and Mary Heffernan were told that their only daughter Saoirse had Batten Disease in 2009, they left the hospital in Dublin with no information about the disease, what to expect or where to look for help.
They vowed that this would have to change. In March 2010, the Heffernan family received more bad news when their son Liam was also diagnosed with Batten Disease.
Tony and Mary decided to set up the Saoirse Foundation to provide parents, families and all those affected by Batten Disease with support, networking and a credible source of information.
Along with the Saoirse Foundation, they also established Bee for Battens, Liams Lodge and BUMBLEance which operates the most technologically advanced ambulance on the planet.
BUMBLEance has everything to remove the stress of ambulance journeys, including the latest games on PlayStation, iPads and Apps, audio and video entertainment, with its own WiFi on-board.
BUMBLEance caters for the sick children of Ireland, both from rural and urban areas, who  have long term illness or are seriously disabled and need professional ambulance transport services.
The service is free and brings children on long and short journeys to principal care centres.
"We have been long term admirers of Tony and Mary, have huge empathy for what they have had to deal with and massive regard for what they have done and developed for the sick children of Ireland," said CW Applied Technology Director John O'Connell.
"We always wished we could do something to support their efforts and since we responded to the current pandemic by developing the Muv-X Room Steriliser, we felt there could be no more worthy cause than BUMBLEance.
"The Muv-X started from a request from a surgeon in the Mater Hospital, Dublin. This led to a conversation with a partner company in the US where we realised that by re-engineering established technology we could offer this portable alternative to anyone anxious to determine how they can keep staff and clients safe in the current climate.
"After the standard room clean, the steriliser is plugged into a standard socket for the required time and when you come back the room has been sterilised,' he explained.