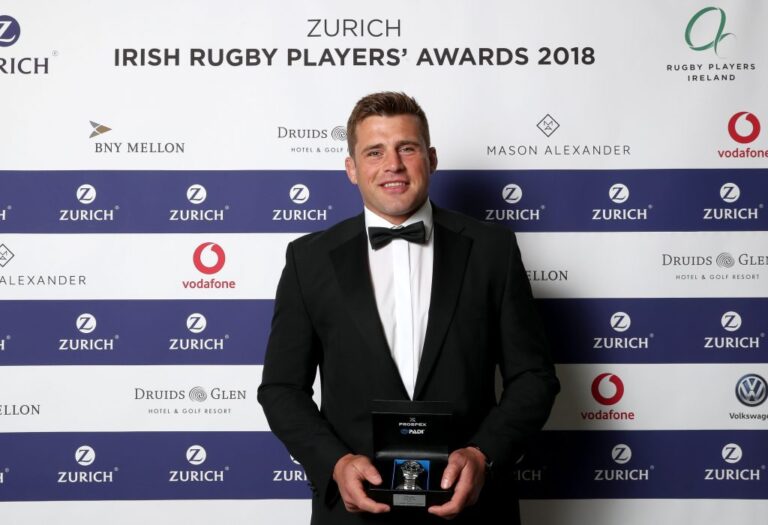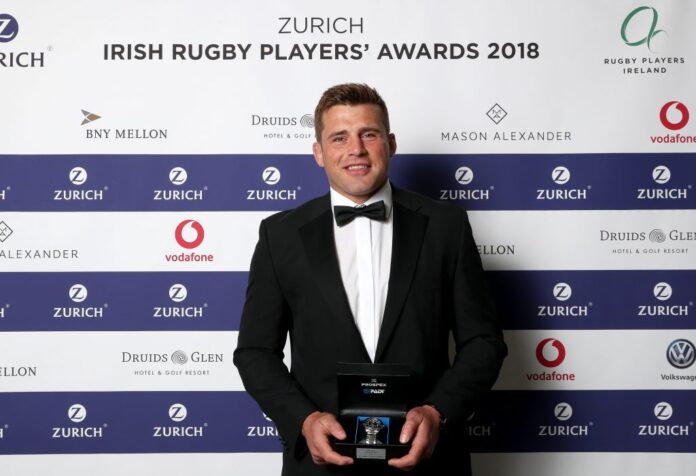 WHAT was once South Africa's loss and Munster and Ireland's gain will now reverse once again. It feels weird to even be writing this but CJ Stander will retire from rugby at the end of the season and return to South Africa with his wife and young family.
Nine years ago now, CJ had a decision to make – the farm, playing at hooker for the Bulls and maybe South Africa, or a contract with Munster Rugby that would take him to the other side of the planet at 22 years of age. He chose Munster.
That's a big move for any player but CJ Stander did just that and he took his now-wife, Jean-Marie with him. Moving halfway around the globe is a big move when you're 42, never mind 22, but the young Standers did just that. Munster bet on Stander but he bet on us too. It was a shot in the dark, I think they'd both tell you that, but boy did it work out.
It wasn't without some road bumps. Some were pretty funny.
Like, for example, the Blind Dogs story. When CJ arrived, he didn't really speak much English. Not a big deal, says you. A few days after he arrived, he went for a team night out in Cork – 12 Pubs of Christmas. After pub seven, CJ went out to get some grub and the doorman wouldn't let him back in. CJ tried to explain that he played for Munster but as he had yet to actually make his debut, the doorman wasn't convinced.
"There's no way you play for Munster, you can't speak English, I'm not letting you in."
CJ didn't have anyone's number at that point so he avoided sleeping on the street for the night by remembering that one of the lads lived out by the Irish Guide Dogs for the Blind centre in Bishopstown. CJ got into a taxi and said he wanted to go to the Blind Dogs and he eventually found his back.
He would go onto make his debut off the bench against the Scarlets and, in the game right after that, he produced a stunning 70m try in Thomond Park to show Munster what he was all about.
CJ might not have spoken much English but his rugby was perfect in any language.
Even then, it took a while for CJ Stander to become CJ Stander if that makes sense. He was always good, any fool could see that, but it took him a while to break into Rob Penney's selection for the very biggest games at #8 ahead of James Coughlan. He made a few appearances off the bench in bigger games but there was a real feeling of confusion as to how and when CJ Stander would announce himself. A year later, on the 5th of April 2014 against Toulouse in a Champions Cup quarter-final, ironically enough, he would have his chance. An early injury to Peter O'Mahony brought Stander off the bench and he produced a game for the ages – scoring a try during a famous win.
Finally, we saw what CJ Stander was all about on the biggest stage.
He was a starter from then on out and would go on to become synonymous with the club.
It's actually difficult to put into words what CJ Stander means to Munster. When we were badly struggling in 2015/16, he put the team on his back at times during that dark season. We had no idea of what dark was. When Anthony Foley passed away in Paris, CJ Stander wore #24 on his back a week later during the Axel game against Glasgow.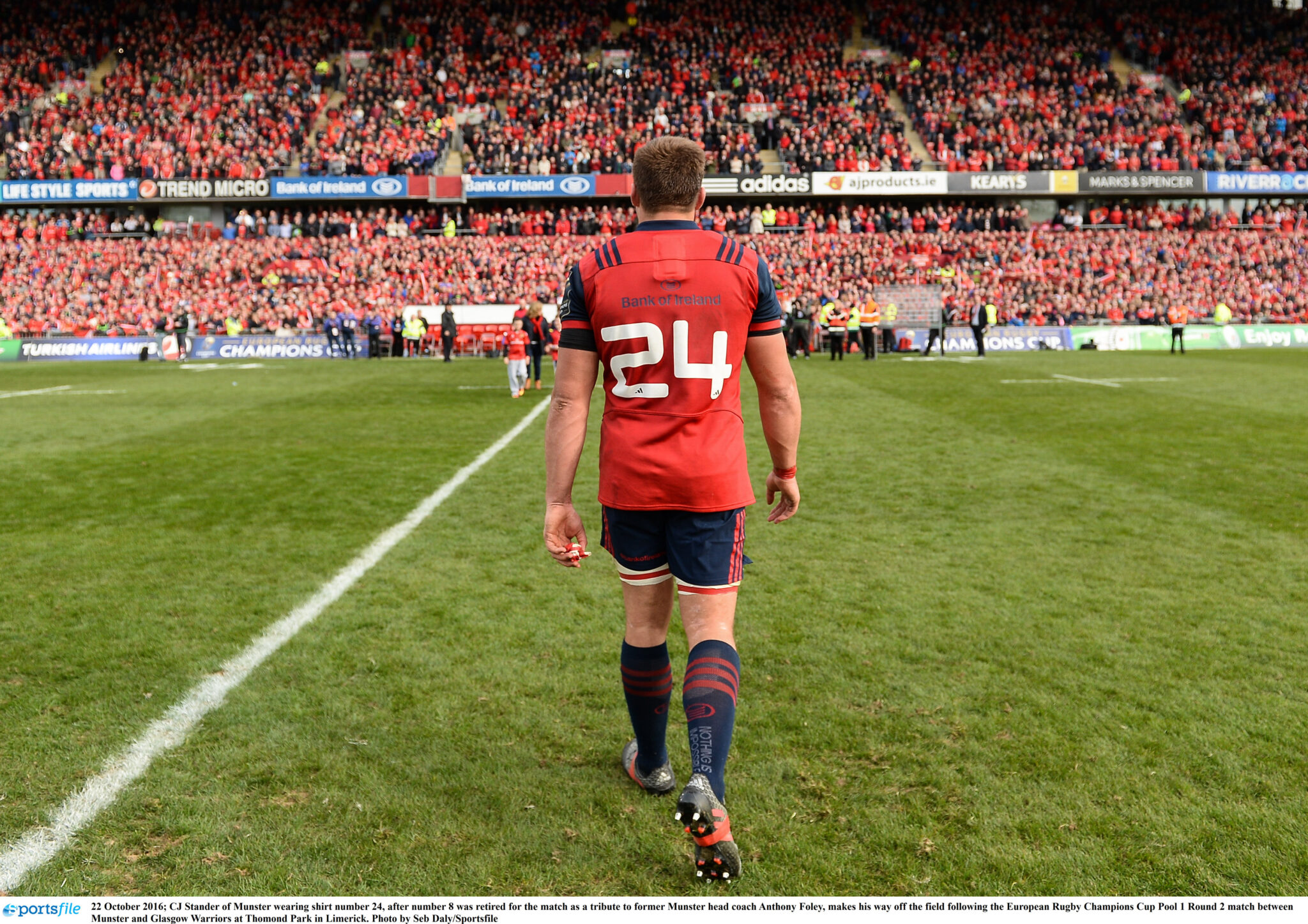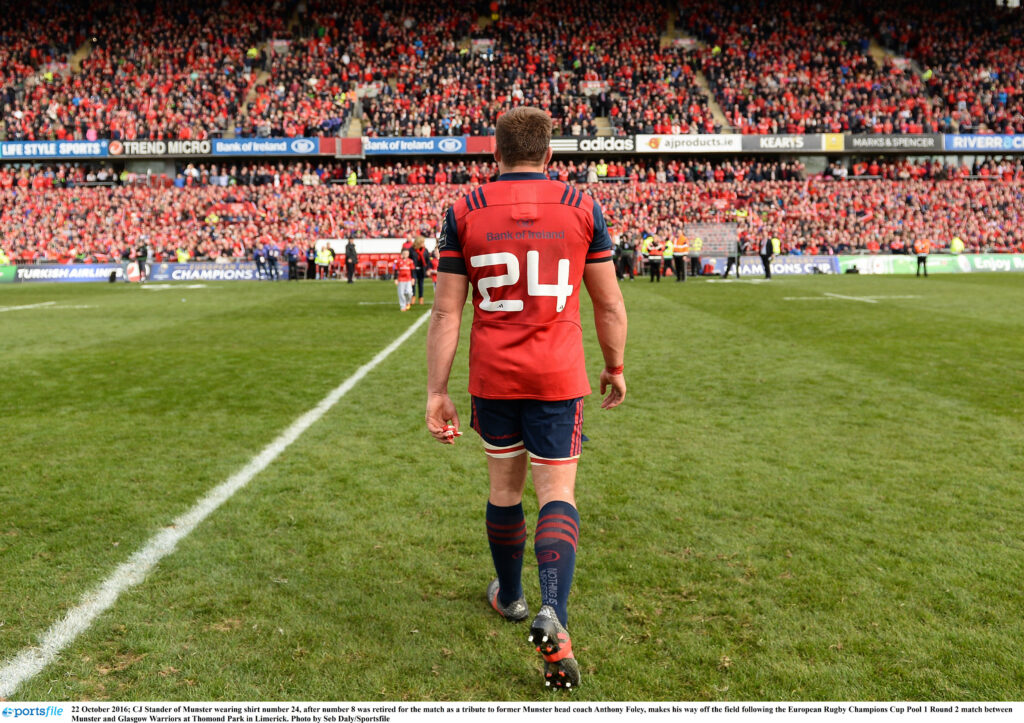 That red #8 jersey means something special down here. That was Anthony Foley's jersey. Denis Leamy wore that jersey. James Coughlan wore it with distinction. Then CJ Stander made it his own and would win so many Player of the Match awards that it should nearly be named the CJ Stander Memorial Award.
It seemed inevitable that an Irish jersey would beckon for Stander if that's what he wanted. Thankfully, he did, and he would go onto earn 50 caps from 2016 until this season. There was actually a question whether CJ could produce for Ireland what he had done so often for Munster. As ever with his doubters, CJ would shut them up time after time with monstrous performances. He was part of the first-ever Irish team to beat the All Blacks in Chicago. He became a test Lion a year later and was a key part of an Irish Grand Slam the following year. He has earned every one of his 51 caps with the kind of brutal, physically punishing game that you can play at this level – as an impact ball carrier.
Even with that physical burden, Stander was rarely injured. He produced consistent top-quality performances for Munster and Ireland. That is not something that every player can do in the modern game.
He's not finished yet, of course. He has a lot of big games to go for Munster this season and I just hope he can go back to George, South Africa with a Munster medal in his pocket. Whatever happens, CJ Stander will leave Munster with the thanks of every person who has this club in their heart. The Sit Down Emporium has a few roadshows left to run this season but, at the end of the season, someone else will take ownership. That is a big responsibility for those who come after.
View this post on Instagram
South African by birth, but Munster by the grace of God – that was CJ Stander. He will go back to South Africa with our thanks and a place in the pantheon of the greats of Munster Rugby.
Thank you, CJ.
The post Tom Savage: South African by birth, but Munster by the grace of God – that was CJ Stander appeared first on Sporting Limerick.