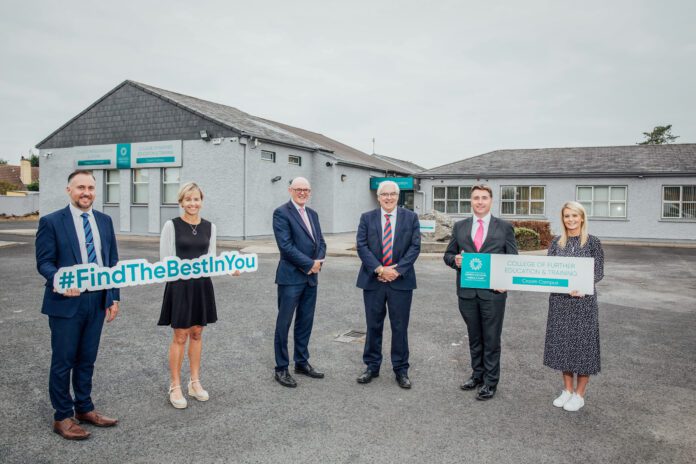 THE College of Further Education and Training, Croom Campus has just announced details of its expanded course offering this autumn with the move to a new purpose-built facility on High Street in the town. 
Following extensive investment over several months, the new campus will offer state-of-the-art facilities including computer rooms, a science lab, clinical and practical rooms, classrooms, a learner canteen and much more. 
Sign up for the weekly Limerick Post newsletter
The announcement is in line with Government strategy to boost upskilling and reskilling opportunities for those affected by the pandemic and is also responding to the growing needs of the community in East Limerick.
The college, one of a network of four Further Education & Training campuses operated by Limerick and Clare Education and Training Board in East Limerick, boasts a great location with ample free parking. 
It is planned that the new campus will in the months ahead be able to offer an enhanced range of flexible, relevant and innovative Further Education & Training courses for learners, the local community, businesses, and enterprise.
This autumn the campus is offering full-time QQI-accredited courses at Levels 5 and 6. 
The diverse range of courses on offer are ideal for those considering a career change, upskilling or for school leavers. CAO points do not apply to any of the courses and there are no tuition fees. There are also lots of progression opportunities to Higher Education colleges nationwide. Healthcare courses at the college include Nursing Studies and Healthcare Support (Home Help). These courses are for those who wish to further their studies in nursing and provide excellent employment opportunities in nursing homes, home help etc. 
Other healthcare courses this autumn include Pharmacy Assistant and Paramedic Studies, which also have ample employment and further study opportunities.
For more information on any of the courses at Croom Campus, visit the website furthereducationcroom.com, speak with one of the team on 061 540 211, or email applyc[email protected]