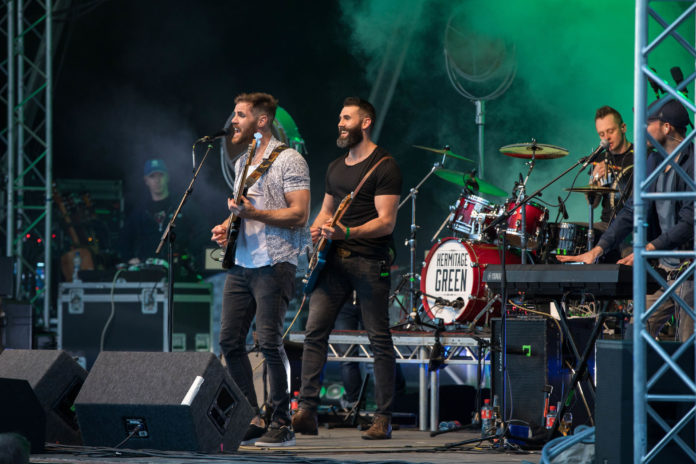 ON the back of a successful Irish tour, playing to full houses across the country since October, Limerick group Hermitage Green will take their place at the 2022 Live at the Docklands series for a huge hometown celebration.
Also headlining at the series is The National (June 5) and Jenny Greene Live with the RTE Concert Orchestra (June 3).
Hermitage Green released Hi Generation, their second album in September and will perform at Live at the Docklands on Saturday June 4.
Neil Dolan said that they were delighted to bring the series back to the city.
"Dolans Presents takes great pride in supporting Limerick acts so it means a lot to us that Hermitage Green have been confirmed to play."
Live at the Docklands was introduced in 2019, giving Dolans the largest capacity venue it has brought to Limerick city to date. The 2019 series was hosted on the waterfront in Limerick city in a specially-delivered marquee performance space which will return in 2022.
"We are really delighted to once again be in a position where we can schedule a summer series of concerts on the riverfront in the city. Securing The National for Limerick last year was a major coup for us and we are looking forward to playing host to what is truly a phenomenal live act".
"With Jenny Greene and the RTE Concert Orchestra completing the line-up we believe we have a weekend series that will attract visitors to the Treaty city", he added.
Over 10,000 people attended the inaugural Live at the Docklands series in 2019 and Dolans hope that this event will continue to develop further year on year, bolstering Limerick's potential as a key summer destination.
Speaking at the launch of Live at the Docklands 2022, Mick Dolan said: "Dolans Presents sees an opportunity to be more ambitious when it comes to the planning of large-scale events that put the city on the map".
"We are striving to continue to improve and to invest heavily in our programming as well as developing our off-site production spaces under the brand of Dolans Presents", he said.
Working closely with Shannon Foynes Port Company, Dolans Presents will again make use of part of Limerick Docks located just off Atlas Avenue as a location for the year two of the Live at the Docklands series.
Tickets for all three gigs from the Live at the Docklands series in 2022 are on sale now and selling fast in advance of Christmas and can be purchased from www.dolans.ie