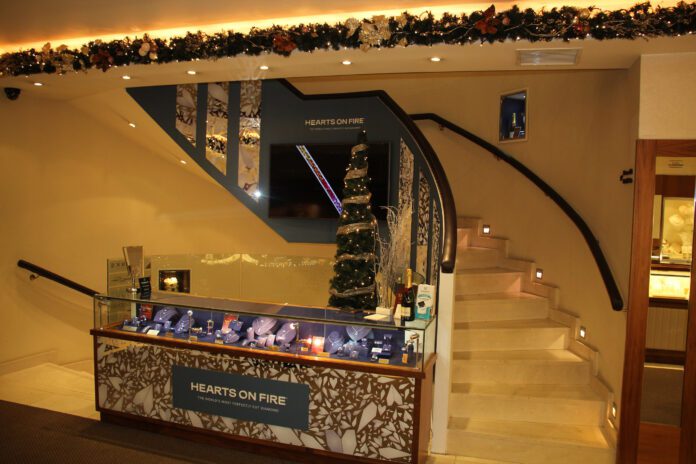 AS the Christmas shopping season gets under way, city retailers are reporting great increases in both sales and footfall in recent weeks.
Limerick-owned luxury jewellers. Matthew Stephens have launched their festive season with the arrival of the Masterpiece Collection Diamond Roadshow which is the largest selection of the finest quality diamond rings and jewellery to come to Ireland this year.
The three-floor city centre premises has become a top Irish destination store with couples travelling from all parts of the country to buy their diamonds in Limerick. Matthew Stephens has brought many of the world's luxury diamond brands and ranges to the Mid West. Customers can choose from the largest selection they are ever likely to see.
Find the perfect diamond ring with a best price guarantee or treat yourself to some amazing gemstone earrings. Drop in and let their amazing team find you something extra special just in time for Christmas.
Call them on 061 415 583 and dial 1 to speak with a Diamond Specialist and make an appointment.
If you are in the market for a fine diamond, the Matthew Stephens Masterpiece Collection Diamond event is not to be missed.
Nothing beats the shopping experience of walking the City's footpaths at Christmas- the chill in the air, the choral singers, the buzz, the dark foggy evenings and twinkling lights all topped off with the excitement of Santa.
We want parents to bring their kids to see the sparkling lights and "Magical effect" and atmosphere that only Christmas can bring. Christmas is such an amazing time for young and old and helps create such special memories.
But its not only the outside- the inside has had a major decoration. We want to make that Christmas feeling as special as possible and make it an experience our customers will never forget. During testing earlier in the week, it already stopped traffic on O'Connell Street during rush hour as people stopped and gazed as the sparkle was been turned on and off. One passer-by even claiming that it was "like something from Disneyland".
"I think that we also need to make it not just a 100 per cent Irish Christmas, but a 100 per cent Limerick Christmas. If we are spending money on gifts over the coming weeks – we need to ensure that we support our local Limerick owned and run stores- whether its jewellery or watches, ladies or gents clothing, shoes, cosmetics and perfumes, toys, sportswear or travel agent, whatever the gift.
"We all need to make that simple little effort to ask- can I buy this from a Limerick-owned store? Then to shop locally, not in Dublin, Cork or Galway or businesses from these cities as we need to keep the money in Limerick for future investment in our great city."
Early reports and general opinion from other Limerick retailers is that its all shaping up to be a fantastic few weeks of trading for all city businesses.
"There are so many fantastic things happening in the city and the future is very bright. The best is definitely yet to come, but the city businesses need the support of each and every person from Limerick and surrounding area, in order to make Limerick the thriving city that we all want it to be."