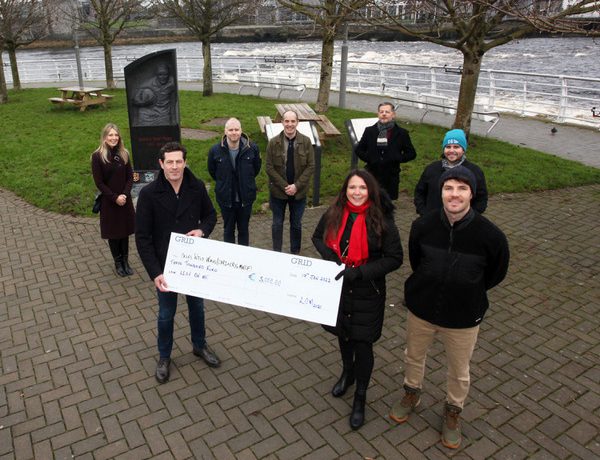 AFTER almost two years of operation, having raised over €100,000 in cash for 222 local businesses to help them through the pandemic, Limerick volunteer-led initiative Lean on Me has decided to call it a day.
Lean on Me was set up by local Limerick volunteers Miriam O'Connor, Joe Brooks, Seanie Ryan, Sean Golden, Pat Fitzgerald, Will Ryan and John Moran with the local neighbourhood in mind.
The Lean On Me platform, which launched in 2020, captured perfectly the local community spirit by allowing customers to buy online vouchers from their favourite businesses to ensure that cashflow continued while the economy was locked down.
The organising committee and shareholders of Lean on Me are now donating its remaining operating funds to local charities through Barry Murphy's Alone You Stand and Orla's Wild Ways, a fundraising initiative set up by Orla Foley in memory of her brother Anthony Foley.
Three local charities will each receive €1,000 from Lean On Me, these are: CRY Cardiac Risk in the Young, The Mid-West Cancer Foundation and CARI Foundation, which provides therapy for children and young people who have been affected by child sexual abuse.
Initially set up as an innovative short-term support measure to help Limerick businesses through the Covid-19 pandemic, Lean on Me enabled local businesses to quickly get online to connect and sell vouchers to their customers. Eventually expanding to Clare and Galway, the initiative saw 1,334 people spend over €100,000 in supporting 222 businesses.
The volunteer team of Lean on Me has expressed its thanks to members of the Limerick, Clare and Galway public, both home and abroad who used the platform to support their favourite businesses over the last two years, as well as everyone who helped with the initiative in any way.
Special mention to Pat Fitzgerald, Grainne Walsh, Thomas Tobin, Barry Murphy, Eoin Gamble, Keith Lawler, Shane Leahy, Dr. Janice O'Connell, Prof Vincent Cunnane, Dermot Whelan, Meghann Scully, Cathy Halloran, Petula Martyn, Senator Róisín Garvey, Ailín Tobin, Derek Butler, Lorraine Blake, Richard Maguire, Cecilia Murphy, Niamh Redmond, Brian Hackett, Kevin Kelly, Mai Santamaria, Andrew Bermingham, Jana Mannion, Cian Dooley, Cian Reinhardt, Simon McMahon and David Fitzgibbon and the many others too numerous to mention who helped the initiative.
And to the groups and businesses that supported us; #LiveableLimerick, Sellors LLP, Elive, Limerick Post, Grid Finance, Clare County Council, BOI Business, Mazars, Hermitage Green, Tax Assist Accountants, Go2Mobile, Bermingham & Co. Insurance Brokers, Airborne Capital, Tola Mobile, Oxygen8 Communications, Ballyhoura Development CLG, VE Global, Cregg Recruitment, Shannon Rowing Club, LIT-TUS Limerick, Today FM, RTÉ and Limerick Leader.
Finally we are delighted to be able to sign off in a way we see fitting, paying tribute to one of Limerick's finest who was sadly taken from us all too soon.
To continue to support Barry and Orla in their fundraising efforts in Anthony's name, go to www.idonate.ie/AloneYouStand & www.idonate.ie/ORLASWILDWAYS