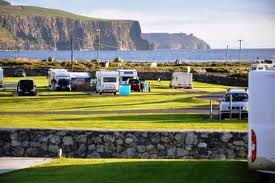 THE organisers of a major Gathering event in Limerick say the country is failing to take advantage of the growing motorhome tourism sector due to a lack of service sites for campervans.
Campervan motorists from all over Ireland, Britain and Europe will converge on Limerick Racecourse in Patrickswell this weekend for a Gathering event aimed at promoting the Irish motorhome tourism sector.
The Campervan Rally Charity Event from Friday May 10 to 12 is being organised by Safe Nights Ireland and is one of dozens of Gathering events taking place in Limerick during the summer. The event will feature a camper parts and items boot sale, an exhibition of traders and kids activities, as well as musical entertainment and a raffle to win a camper van.
Organiser and Fedamore native, Frank Ryan of Safe Nights Ireland said the event is not only aimed at promoting the need for domestic motorhome tourism market but also showcasing the need for campervan sites, also known as 'Aire De Service', to be established across Ireland.
Askeaton in County Limerick is presently the site of the Republic of Ireland's only Aire de Service, a common feature in towns and villages across mainland Europe and the United Kingdom.
"The lucrative motorhome tourism is largely overlooked in this country as evidenced by the distinct lack of investment in service points dedicated to facilitating Campervans. By developing more facilities around the country Ireland will be able to tap into a form of tourism that is becoming increasingly popular, as evidenced in Northern Ireland where there are up to a dozen campervan service sites. The benefits for any community in providing service points are significant."he said.
For more information see www.safenightsireland.com