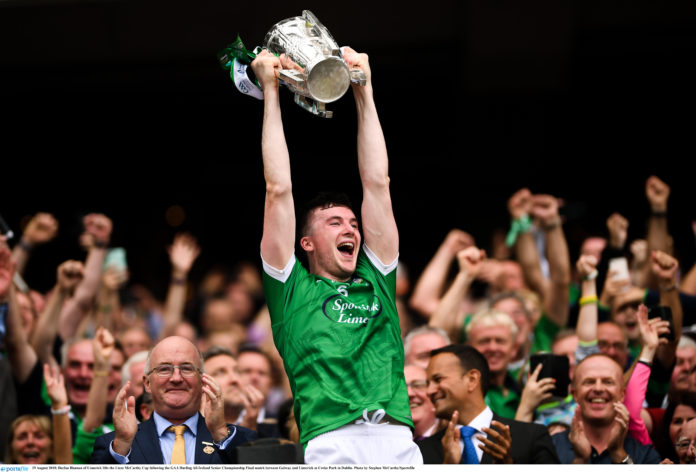 massive party is planned at the home of Limerick GAA as supporters will get a chance to welcome home their heroes – the first Limerick team to bring the Liam McCarthy Cup to the Treaty County in 45 years.
Limerick City and County Council in association with Limerick GAA are inviting supporters to come and join the free family-friendly party at the homecoming in an expected capacity crowd in the Gaelic Grounds.
Sign up for the weekly Limerick Post newsletter
The homecoming is a ticket-only event with free tickets available fromEventbrite.ie from 6pm this evening. (Sunday 19 August 2018).
Please be patient as you log on to get your tickets, which are available on a first come first served basis.
They are all free with no charges and can be downloaded to peoples' phones and in the interests of fairness and allowing as many supporters as possible to get tickets, they will be limited to six tickets per transaction.
You will need a ticket to enter the Gaelic Grounds, so please don't come to the grounds if you don't have a ticket.
Limerick City and County Council and Limerick GAA are encouraging supporters to get to the stadium as early as possible to soak up the atmosphere.
Gates will open at 4pm with entertainment beginning shortly afterwards. It is extremely important that you get there early to soak up the atmosphere. Once the stadium is at full capacity, no others will be admitted.
Award winning Irish group Beoga, fronted by Limerick woman Niamh Dunne, will get the party started before The Blizzards continue the entertainment, while DJ Mark McCabe will have no problems keeping the spirits high as Limerick celebrates its first All-Ireland Senior Hurling title in 45 years.
In the interests of health and safety, the last admission into the grounds will be 6.30pm.
Liam McCarthy is due to make his first appearance in the Gaelic Grounds around 7pm as the victorious team is welcomed onto the stage to have a chat with RTE's Marty Morrissey.
The party is due to finish around 9pm.
There will be widespread traffic restrictions around the Gaelic Grounds. Supporters planning on going to the homecoming are urged to use public transport or park in the city centre and walk the short distance to the Gaelic Grounds. (See road closure details below). There is no parking available at the grounds.
Bus Éireann is to provide additional frequency on the city's route network to cater for the expected crowd.
The train carrying the victorious team will arrive in to Colbert Station at 5.40pm where the team will be greeted by the Mayor of the City and County of Limerick Cllr James Collins.
The team will be brought out to the steps of the station before travelling on an open-top bus to the Gaelic Grounds for the official homecoming.
The bus will travel down Mallow Street, O'Connell Street, Sarsfield Street, over Sarsfield Bridge and out the Ennis Road to the Gaelic Grounds.
This will give supporters not going to the Gaelic Grounds a chance to greet their heroes.
There will be rolling road closures in the city centrefrom 5.30pm until 7.30pmas the team makes its way to the home of Limerick GAA.
Congratulating the team on their famous victory, Mayor of the City and County of Limerick Cllr James Collins said: "This is incredible, unbelievable! The team performed with such determination and skill in the final.  They showed their true colours and the pride they have in the green of Limerick.  On behalf of the people of Limerick, I would like to thank them for this amazing All-Ireland journey. It is not just the win that fills us with pride, it is the manner in which the team and management have carried themselves throughout the campaign."
John Cregan, Cathaoirleach of the Limerick County Board added: "We set out together last January to embark on a journey to success. This has now been achieved in a truly remarkable fashion. We have now just won what many believe to be the greatest All Ireland championship of all times. This year was different, this championship was different and this Limerick Team is now very different. This so called championship that kept on giving has now given us the greatest prize in hurling, Liam McCarthy, after a 45-year absence.
In what is my greatest ever privilege, on behalf of Limerick County Board, I salute all involved in this famous victory, our team captain Declan Hannon and his 35 colleagues, manager John Kiely and his management and backroom teams, our team sponsor Adare Manor and JP and Noreen Mc Manus, our additional sponsors, my fellow officers and staff of Limerick County Board, and of course our clubs and many thousands of supporters both at home and scattered throughout the world all of whom have contributed to this success."
Many thanks to our Homecoming hosts Limerick City and County Council, to An Garda Síochána and to all of our other civic authorities for your massive input into this event and indeed for your ongoing support for and cooperation with Limerick GAA. Ar son CoisteLuiminigh go raibhmílemaithagaibh go léiragusmílemílebuíochas do gachéinne."
Temporary Road Closures on Monday 20 August 2018
The Ennis Road (R857) will be closed to vehicular traffic and parking between Sarsfield Bridge and Ivan's Cross (R445) from 3.30pm to 9.00pm on Monday 20 August 2018.
Local Diversions will operate.
Residential access to Mayorstone, Coolraine Estate, Merval Park and adjoining areas will be subject to road closures from 1.00pm with residential access only permitted.
Motorists are also advised that Limerick city centre will be subject to significant traffic diversions, with rolling closures from 5.30pm until 7.30pm due to the homecoming of the victorious Limerick Hurling team. Traffic delays are expected.