Prior to Monday September 3's upbeat programme launch at Alex Findlater & Co's with Mayor James Collins and Limerick Hurling forward Kevin Downes, Limerick Post stole a look at the Autumnal offer at Lime Tree Theatre and Belltable.
Actually, there will be a surprise venue for performance at Belltable and Lime Tree opening up, that of the Townhouse Café. Below stairs at Belltable, O'Connell Street, restaurateur Joe Larkin's new gaff will host the site-specific theatre company Dante or Die's latest show, 'User Not Found'.
Settle into your restaurant seats for the unexpected ride guaranteed by director Terry O'Donovan. O'Donovan came up through Limerick Youth Theatre and having worked in the UK this long time, his  preceding shows here, 'I Do' at The Savoy and 'On The Wire' at The Sailor's House were incredibly vibrant works that consume space inventively. And far from being a treasure hunt between coordinates, there is a heightened piquancy to said works in their unfolding within credible surround.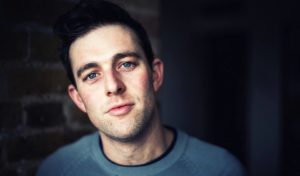 His company Dante or Die is producing Chris Goode's 'User Not Found' to a limited audience of 45 only on September 26.
"The Townhouse Café is opening in mid September ahead of the show," explains marketing manager Gill Fenton. "Everyone will be provided with an iPad to plug into and you will get direction on what to do with it. There will be two shows, one at 6.30pm and one at 9pm. Terry O'Donovan plays a man mourning the death of his lover Luka and wondering how to manage or delete Luka's digital life.
"Belltable's programme director Marketa Dowling saw 'User Not Found' at Edinburgh and it is beautiful."
In contrast will be the Belltable String Quartet's suite of monthly concerts. October 5 presents The Navarra Quartet playing Haydn and Schubert; November 16 The Shandon Quartet for Raymond Deane and Schumann; and on December 7, Mairéad Hickey and Siobhan Doyle on violin join with Ed Creedon on viola and cellist Chris Ellis for Debussy and Beethoven.
Flip over to Lime Tree Theatre proscenium theatre on September 22 for a high octane treat. Irish National Opera returns after 2017's 'Owen Wingrave' to stage a classic, 'The Tales of Hoffman'. Tom Creed directs Jacques Offenbach's opera that is adapted from  macabre stories by ETA Hoffman, each of them driven by a failed love affair (as is opera).
A big production, it will be sung in French with subtitles.
We're not done with opera yet. Roll on a month to October 27 for a joint production from The Everyman and John O'Brien at Lime Tree.
"We are going to premiere John O'Brien's new work which is inspired by Oscar Wilde's story 'The Nightingale and the Rose'," Gill says. "As well as this being an inventive work from an accomplished team, I am really excited about its showcasing the depth of musical talent we have here in Munster."
A last nod to music, Elaine O'Dwyer's 'Queen of Technicolor', homage to  Maureen O'Hara's life in Hollywood. Elaine O'Dywer tells in song and costumed story some truths to O'Hara's experience of the studio era. Belltable is weighing in behind the MIDAS/ MIC graduate for this premiere. It plays at Belltable on November 22 and 23, a production espoused by this arts resource centre and premiered there.
All shows at www.limetreetheatre.ie