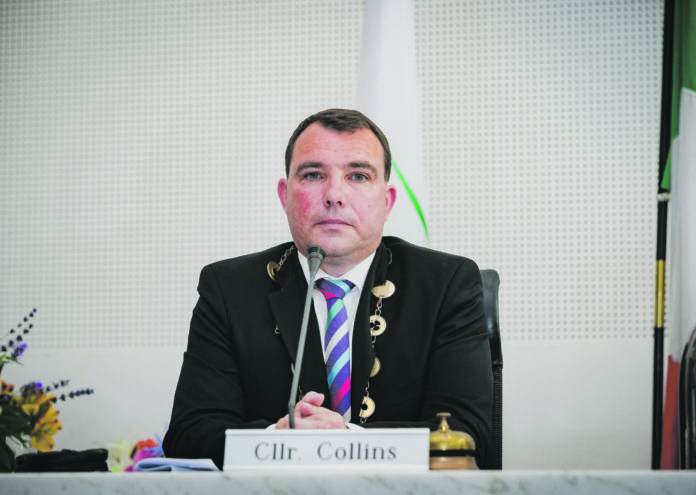 MAYOR of Limerick, Cllr James Collins maintains that changes with regard to health and housing in Budget 2019, will make life somewhat easier for people living in Limerick.
The Fianna Fáil General Election candidate for Limerick City also said that the Affordable Housing Scheme, worth €310 million over the next three years, will deliver over 6000 homes for working couples and families.
"This will make it easier for people to own their own home, and I am proud of the role that Fianna Fáil has played in delivering it. Our budget negotiators worked hard to deliver a fourfold increase in funding for affordable housing," Cllr Collins enthused.
"Additionally, the removal of a number of administrative hurdles will make it considerably easier for Limerick City and County Council to build council housing far quicker than at present. This is good news for the thousands of people on the council's social housing waiting list.
"In the area of health, the additional €20 million for the National Treatment Purchase Fund will ensure that those on waiting lists get their treatment or operation far quicker than at present. It was Fianna Fáil that secured the NTPF's reestablishment following the decision of Fine Gael and Labour to mothball it in 2012."
Fianna Fáil's Spokesperson on Social Protection, Willie O'Dea was equally enthused.
He believes that following a third successive increase in all adult social welfare payments, "it's clear that Fianna Fáil delivers on its word to support the less well-off and vulnerable".
"Fianna Fáil has never shied away from its commitment to support the less well-off. Over the past years, we have seen a €15 per week increase in these payments, and we make no apology for demanding these increases as a means of enabling families reliant on welfare payments keep pace with inflation," said Deputy O'Dea.
"Reversing the regressive nature of the last Fine Gael and Labour government was, and remains, a key priority for Fianna Fáil. It's why we decided not to sit on our hands, and shout from the sidelines, like other political parties.
"Despite these hard-fought gains, inequality in Irish society still persists; 50 per cent of lone parents are experiencing deprivation and 780,000 people live below the poverty line. The economic recovery has not reached every home and family in the country. People are still playing catch up from the savage cuts introduced by Fine Gael and Labour.
"The 519,353 people who gave Fianna Fáil their vote in the 2016 General Election deserved a party that worked to deliver on its commitments. We recognised that reality and have delivered in terms of social welfare, education, health and housing," the Limerick politician added.
However, Sinn Féin TD for Limerick City, Maurice Quinlivan, was having none of it.
He accused Fine Gael and Fianna Fáil of turning their backs on those in social and affordable housing need as the greatly anticipated Housing Budget "fails to materialise".
"Despite the hyped-up Fianna Fáil rhetoric that Budget 2019 would be a Housing Budget, the figures indicate that only a paltry additional €120m has been allocated for capital investment in housing for 2019 above existing commitments. This will only deliver just 490 additional new social homes on top of what was already committed to. The government real social housing target for 2019 is now only 7,900 and falls well short of what is needed," Deputy Quinlivan declared.
Sinn Féin's Spokesperson on Business, Enterprise and Innovation also reacted to proposals put forward by Minister Heather Humphreys TD in Budget 2019 describing them as "unimaginative and very disappointing for businesses in Ireland".
"To put it frankly I was very disappointed and underwhelmed by the budget proposals for the Department of Business, Enterprise and Innovation. I found the few proposals that were announced, unimaginative and disappointing for businesses. I don't believe the Minister has taken account of the level of assistance businesses may require from our State agencies next year due to Brexit, allocating just €8 million in this area," he concluded.
Read more articles related to Budget 2019.