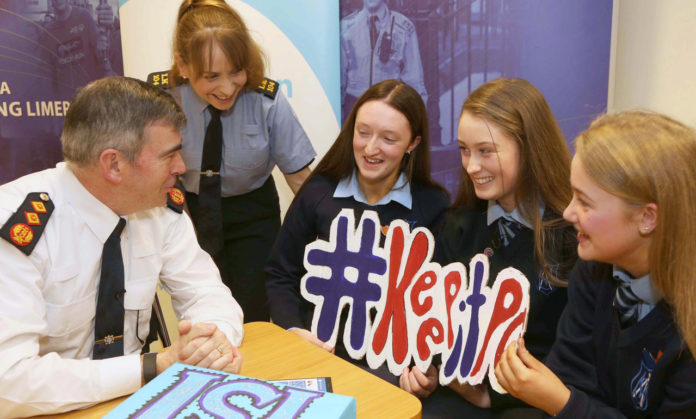 THE title-holders of Young Social Innovators of the Year 2018 from Ardscoil Mhuire, Corbally, met with Garda Commissioner Drew Harris in Limerick to brief him on their work and to discuss their concerns in relation to sexting abuse among minors in Ireland.
Sexting abuse is the sending of unsolicited sexually explicit digital images, videos, text messages, or emails, usually by mobile phone.
The Limerick teenagers are calling for changes to current legislation in this area which they argue is unfit for purpose and they would also like to ensure that Gardaí are given the appropriate support and legal framework to deal with reported cases of sexting abuse.
Commissioner Harris described the initiative as a great example of young people developing their own solutions for the problems facing their generation.
"Social media has created great opportunities to communicate, but also problems such as the sending of inappropriate material to minors. It is vital that all of us involved in protecting young people utilise all the tools available to help us with this and this excellent initiative is another welcome means in combating online child abuse."
Sarah McDarby, one of the YSI team members who briefed the Commissioner said: "It was wonderful to have the opportunity to meet with the Commissioner and to tell him about this issue that is affecting so many young people in Ireland today. We hope that we can make a real difference in this area and help those who have and continue to be affected by sexting abuse, which is often something that is kept hidden by those who experience it."
As part of their work, the YSI project team, 'Keep It PG', has worked closely with local Community Gardaí in Limerick and held workshops and information sessions for students.
They produced instructive materials and created a range of fun and engaging activities to advise people on the correct actions to take if they receive unwanted images.
The students won the national title at the Young Social Innovators of the Year Awards last May. They also received a Community Award at the Limerick Divisional Garda Youth Awards in November as well as a nomination for the National Garda Youth Awards to be held in May.
by Kathy Masterson
[email protected]