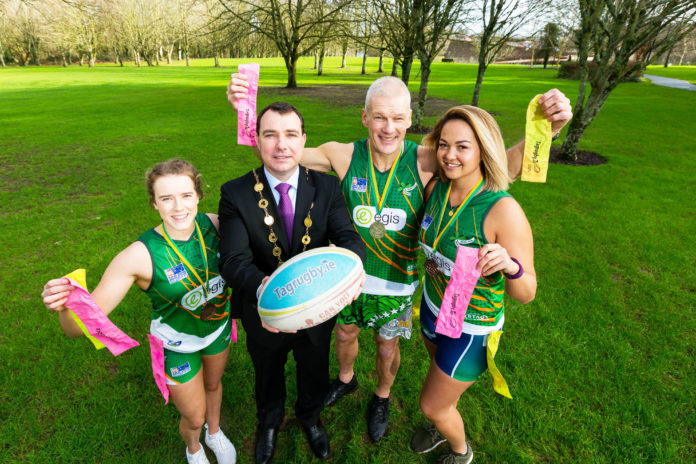 LIMERICK's status as a location for international events has been highlighted by the announcement that it has won the bid to become the first northern hemisphere host of the Tag Rugby World Cup.
 A joint bid led by the UL Conference and Sports Campus and the Irish Tag Rugby Association landed the event for Limerick which will host 3,000 tag rugby players and their followers from more than 20 countries in August 2021.
The event is expected to deliver at least €5 million to the local economy with accommodation providers benefitting from an extra 20,000 bed nights.  It is held across four days but, with many participants travelling from the Southern Hemisphere, teams are expected to stay for up to three weeks in advance of the competition.
The bid involved a year-long process that was initiated after two of the Tag Rugby Ireland management team Barry Keary and Shane Landers approached the UL Conference and Sports Campus team with the idea.
A partnership involving the three local entities supported by Fáilte Ireland put together a detailed bid and beat off stiff opposition, particularly Great Britain, after organisers decided to take the event out of the southern hemisphere for the first time.
The bid was also supported by Shannon Region Conference and Sports Bureau and Limerick City and County Council.
Tag rugby has grown enormously in popularity over the past decade, particularly in Australia and New Zealand but also in Ireland and the UK. The three previous World Cups were held in New Zealand (2012) and Australia (2015,2018).
Limerick Mayor James Collins said the successful bid was a victory for Limerick and recognition of its status as a city of great hospitality and great facilities.
"We all know Limerick's proud sporting heritage, not least in rugby. Tag rugby has become very popular in Limerick over recent years, not least as a result of the hugely successful Pig 'n' Porter festival. The Tag World Cup is, however, a very serious and competitive event and tailor-made for Limerick.  We have the rugby DNA, the hospitality and warmth and UL provide outstanding facilities so the mix was perfect and the bid equally so.
UL Sport and Recreation Director David Mahedy said they were excited at the prospect of hosting the competition and work had already begun to make it a World Cup to remember for every player and supporter who makes Limerick their home for the duration of the Championship.