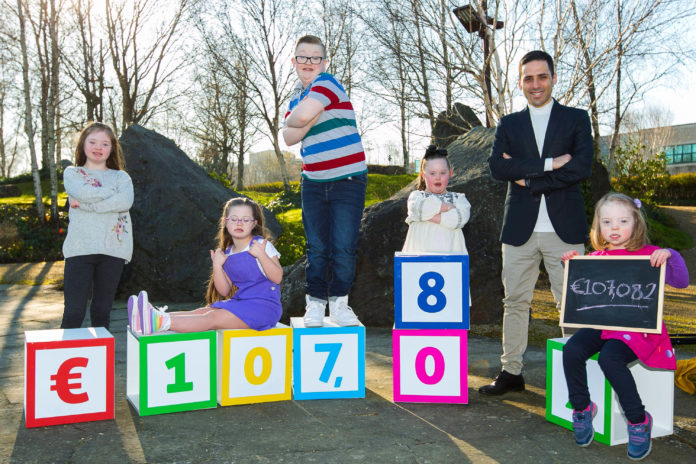 Wyeth Nutrition, Askeaton, Limerick assisted in raising €107,082 for Down Syndrome Ireland (DSI) over the last two years breaking their original target of €70,000.
More than 700 employees from Nestlé's Wyeth Nutritionals Ireland and Nestlé Ireland Citywest, Dublin organised and participated in a wide range of fundraising events to support DSI's services.
DSI provide children, teenagers and adult members as well as their families with a wide range of services and essential education supports.  Since 2010, Nestlé staff in Ireland have assisted in raising a total of €797,000 benefitting a number of charitable partners including the Jack & Jill Foundation, Irish Autism Action and DSI.
Mary Doherty, President of Down Syndrome Ireland said, "Their generous support is helping us fund more regional support structures for parents and children with Down syndrome in Limerick and will also help us further develop our essential education support services for children with Down syndrome around the country.
"As a parent of a child with Down syndrome myself, I know how effective education supports help put our children on a lifetime path to independence, which is at the heart of everything Down Syndrome Ireland does."
Andrew Shaw Nestlé Ireland Citywest Country Manager said it the team were proud to support DSI and it was "a genuine pleasure" to partner with the support service.
"We are delighted we broke the ceiling on the target and were able to raise more than we anticipated at the outset," he said, adding, "We are particularly proud too of the additional supports we could provide to assist DSI in its work and progress as a key organisation providing essential support to people with Down syndrome. "
Antonio Prochilo, Factory Manager at Wyeth Nutritionals Ireland Ltd said, "Working to support the DSI over the last two years has been so rewarding for all our staff. It is fantastic that our funds have gone towards providing a new support resource in the Limerick and Tipperary area to work with members locally."