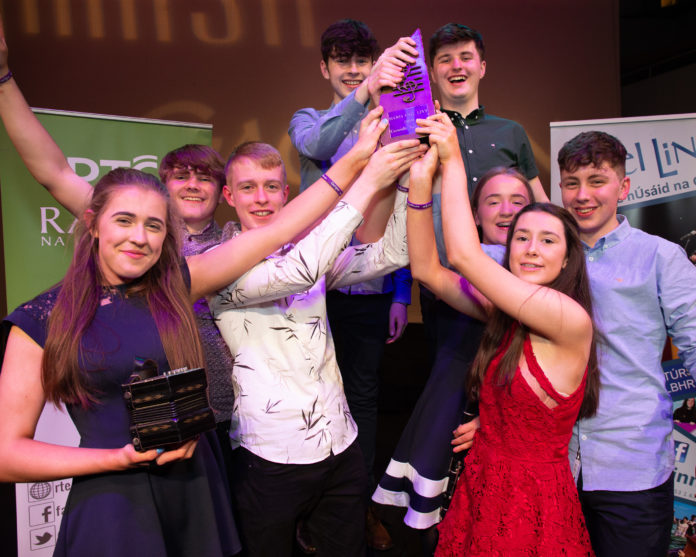 The young traditional music group Finscéal from County Limerick have realized their dream of becoming the Siansa Gael Linn 2019 winners.
At the Grand Finale concert in the National Concert Hall on Sunday, April 7, they were selected from among eight finalists of a high standard for this prestigious award. Organized annually by Gael Linn, with support from RTÉ Raidió na Gaeltachta and Irish Music Magazine, Siansa Gael Linn is a musical highlight on the calendar of young musicians.
The capacity audience, comprising schoolmates, friends and relatives of the competitors, were treated to a feast of traditional music and song from the eight finalists.
There was stiff competition  among the groups who hailed from all corners of Ireland-  'Lonrach' from County Laois, 'Aontacht' from Sligo, 'Tigh Tara', from County Derry and 'Léargas' from County Tipperary, along with County Clare's 'Cuisle,  two groups from County Mayo -'Siar' and 'Ildánach', and of course,Finscéal' from County Limerick – for the prizefund  of €4,500.
It fell to renowned traditional musicians  Muireann Nic Amhlaoibh, Seán McElwain and Bernadette Nic Gabhann to decide the prizewinners. They praised all the groups for their programmes of carefully selected and thoughtfully arranged traditional  tunes and songs, but in the end, declared 'Finscéal' the winners.
Group members Séamus Dundúrtaigh, Karl Ó Raifeartaigh, Emily Ní Condúin, Áine Ní Shíocháin, Eoin de Búrca, Breandán de Paor, Laoise Nic Ghiobúin and Mícheál Mac Giobúin  were thrilled to accept the top prize – €2,500 and the Siansa Gael Linn Trophy.  In second place were the  group ' Léargas' from County Tipperary,  who received €1,250. Third place and a prize of €750  went to ' Siar'  from  County Mayo.
A specially designed memento was also presented to each young musician who took part in the event.  The performances of each of the eight Siansa finalists on the National Concert Hall stage may be viewed on YouTube and on social media platforms over the coming days.
Siansa uniquely showcases Irish music and Irish song by young musicians, all through the medium of Irish. Compered by popular broadcaster Áine Hensey, the concert was enjoyed, not only by the huge attendance in the National Concert Hall, but by thousands of listeners worldwide who tuned into the live broadcast on RTÉ Raidió na Gaeltachta, on radio and Facebook.   Gearóid Mac Donncha, Ceannaire ( Head of Service )  commented:  "RTE Raidió na Gaeltachta is delighted to be associated with Siansa. Without a doubt, it has become a major event on the traditional music calendar and one of our most important broadcast events on Raidió na Gaeltachta . We congratulate the musicians,  Gael Linn and everyone who has helped to make it the success it is!"
Praising the groups and their mentors who brought the standard of musicianship and song in this year's Siansa final to a new level, Gael Linn CEO, Antoine Ó Coileáin, said: 
 'Gael Linn, with the help of  Raidió na Gaeltachta who broadcast a special programme to mark the event, recently celebated another famous concert, 'Ó Riada sa Gaiety' which was organised by Gael Linn 50 years ago this month. Both the concert and the album recorded on that night are widely regarded as the launch pad for a huge resurgence in  the popularity of traditional Irish music at the time and which has prospered ever since. Tonight in the National Concert Hall, perhaps we have witnessed the beginnings of another famous group like Ceoltóirí Chualainn who provided the music on that memorable night in the Gaiety!'
Previous participants in Siansa Gael Linn  include renowned musicians and singers,  Limerick's Niamh Dunne ( Beoga ), Radie Peat (Lankum), The Bonnymen and Neil Ní Chróinín ( Danú ).