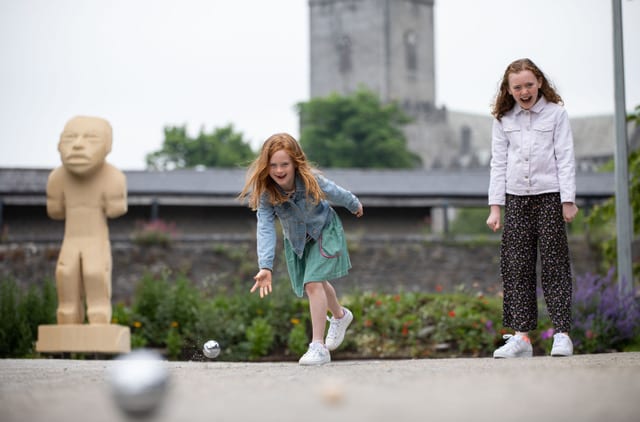 THE Hunt Museum, which exhibits one of Ireland's greatest private collections of Art and Antiquities, has created an exciting new public space for Limerick.
Museum in a Garden takes the Hunt Museum outside its walls to create a public urban garden in the heart of Limerick. The concept behind the garden (established as a Museum board priority in 2015) is to break down barriers to culture and art and encourage greater engagement with the community.
The garden was first opened as a public space in 2016.  Then, in 2020, The Hunt Museum removed the railings around its green space to create theMuseum in a Garden. Conceived as an extension to the museum, the garden will feature seven super-sized sculptures replicating artefacts from the museum.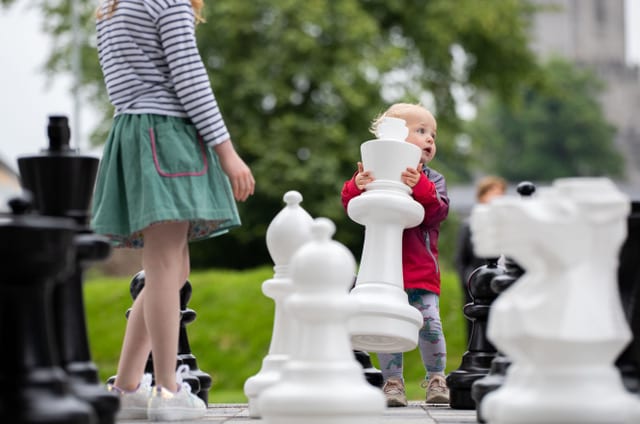 First to be installed is Olmec Man, a Mexican artefact that was digitised by TY students and made into a two-metre outdoor replica using 3D printing technologies with help from ESB, Arup, the Limerick School of Art & Design (LSAD) and 
Monaru.ie
.
The beautifully designed river reflecting sensory garden by Nicola Haines also includes a community garden, a garden chess set, boules and "hills" for children to roll down. Custom-designed benches and personalised cobbles also featurethanks to the support of a public fundraising campaign.
Speaking at the official opening, Jill Cousins, Director, The Hunt Museum, said, "By allowing our objects to escape the museum walls, we hope to intrigue and entertain many more people.
"It is a work in progress and over the next six months more sculptures will take up residence outside as we hold events in this brand new and exciting space. Everyone was so generous under the Fund a Cobble campaign and JP McManus Golf Pro Am and our volunteers have been numerous and many.
"Museum in a Garden belongs to us all, to admire the sculptures, picnic, play chess, tend to vegetables or to simply sit still." she said.
Chair of the Museum, John Moran, said "Great public spaces are where communities come together and barriers and feeling of isolation disappear. Ever since I took over as Chair it has been my ambition to see this formerly somewhat unloved and railed-off space become a true open public space for all the residents of Limerick.
"My own family was delighted to support this project with a donation to fund the creation of a community garden in memory of my dad, Sean Moran, a builder who loved the river and devoted many years restoring some of Limerick's old buildings." he added.
Mayor of Limerick, Cllr Michael Collins, officially opened the Museum in a Garden at a small launch event: "I would like to congratulate the team at the Hunt Museum and everyone who supported this wonderful initiative.
"Placing culture at the heart of a city's regeneration gives it a depth of meaning and engages local pride. Museum in a Garden provides a new experience where people can connect with the outdoors while encountering works of art. It will greatly enhance the attractiveness of Limerick as a tourist destination," he said.
Guest speaker at the official opening, Eanna Ní Lamhna, Biologist and Environmental Consultant, said, "Gardens were originally designed as havens from the outside world. This is indeed a haven and as well as that it is also an extension of the world of the museum.
"The world of nature is all around and the natural environment of the river is incorporated too. This is a feast, not only for the eye, but also beautiful smells and sounds from the wind to insects and even birds. Take it all in, relax and let the calmness sweep over you." she explained.
Garden Design of Community-Influenced Sensory Garden Running down to the River Shannon, the garden provides an oasis of calm in the city centre. The garden design was awarded to Nicola Haines following a nationwide competition where her innovative river reflecting, community-influenced sensory garden design won over the judges.
Explaining the concept behind the garden design, Nicola Haines, Tierney Haines Architects, said, "The design draws on the maritime connections of the building and museum collection by creating 'tide lines' of grass and planting that ebb and flow around the garden, creating alcoves of shelter for exhibition space, seating and play.
"Exhibition alcoves are planted to give a flavour of the origin of sculptures exhibited and provide semiprivate seating, whilst larger spaces create opportunities for growing, learning, games and events. The garden will be an inclusive public garden space which we hope will be loved and used by the local community and visitors alike."
Built by the Community for the Community In the spirit of creating a public space, The Sean Moran Community Garden, in the north-east section of the garden, is where vegetables and flowers will be tended by community volunteers with several wheelchair access planters and a sensory garden.
"Several community groups were involved in its delivery and will continue to maintain it, including St Mary's Parish Men's Shed, Doon Men's Shed, Southill Men's Shed as well as LMHA Le Cheile Men's Group, Southill Women's Group and local schools.
"By getting involved from the start, volunteers have developed a vested interest and sense of pride in the garden project while acquiring new skills and becoming more connected with the museum.
Speaking on behalf of the groups involved in the development and maintenance of the Sean Moran Community Garden, Martina Shanahan, Limerick Mental Health Association (LMHA), said, "The LMHA Men's shed were delighted to be invited to maintain the garden; it allows us a safe place to meet and work outdoors in a beautiful setting.  After Nicola shared her vision with the group, we knew it would offer a very beautiful and communal outdoor space for the community in Limerick."
Jim Prior, Southill Family Resource Centre, said, "We are excited and delighted to be part of this project. The community garden will provide a space where the 15 plus men's sheds across the City and County can come to contribute to its upkeep and maintenance and allow opportunities for networking between the shed's projects. Everyone has enjoyed getting hands on and doing something for Limerick while getting to know each other and the Hunt Museum."
Several key sponsors and partners were involved in the development and delivery of the garden: Arup, ESB, JP McManus Foundation, Kirby Engineering, McMahons Building Supplies, the Moran family, Sadliers Fish & Poultry, UMR Group. Extensive support was given from LSAD-LIT, Limerick City & County Council, Monaru, TLC, Friends of the Hunt Museum, and ACS Construction.
Good evening everyone. Can I echo Jill's welcome to you all today to our new Museum in a Garden.
It is a great honour as Chair of the Museum to explain to you the how and the why of our lovely new public space.
Back in 2015, not so well known perhaps, we as a board were faced with a museum under threat of closure. It required digging deep to save it and boy, did our communities in Limerick dig deep.
Since those early tough board meetings, thousands of volunteer hours and over 1 million euros has been spent to make the building safe for our staff, for our visitors and our collection
But it was not just about the building. We wanted to exit the crisis by repositioning the Hunt in the social fabric of Limerick. We knew that required an ambition not just to be good but to be excellent!
Higher profile exhibitions, most notably the Paul Henry/Yeats exhibition of 2017, showed you did not need to travel to Dublin to see great works of art. Indeed the Dubliners came to Limerick instead.
As Limerick now becomes the Gateway city to the Wild Atlantic Way (and well done to the many here today who achieved that result), Naomi's exhibition choice for this summer of Wild Atlantic Way paintings sets out the leading role the Hunt plans to play in that mission.
But 6 years ago, in our Annual Report, as Chair, I wrote: "Reflecting our desire to see the Hunt continuously enriched as a place of public enjoyment, during 2015 we commenced working with Limerick City and County Council to open the riverside garden to the public fostering a public sense of ownership of the museum facility and creating a first class public space in the grounds…."
It has been I have to admit, a pet project of mine, and I am so proud of the work of the Hunt team and the journey that has been travelled steadily since then over 6 years..
First, in 2016, we resolved insurance and security issues and made the decision to simply open the gates to tell people they were free to rediscover this long unloved space. The journey had started.
Next, despite no visibility of funding on the horizon, we agreed to forge ahead with the competition for a garden design. We believed that if we came up with a good enough design, we'd find ways to fund it somehow. It worked, thanks to the generosity of many of you here today.
Then, there was the fun and excitement of the day we judged the proposals of the school kids about what they believed the garden should be. Indeed, many of their ideas are visible here today.
Soon after, it was onto Covid zoom calls and the heavy responsibility our judging panel felt to choose a final design. Hopefully, you agree with us that Nicola's design has so perfectly captured the magic of this riverside site for the decades to come.
The day though that I knew that there was no way back was the day we took down those (forgive me OPW) awful railings which walled off the museum from the walkways by the river. A physical barrier sending out for two decades a message of exclusion to so many who should instead have been regular visitors to our Museum. My dad, the real builder in our family, would have laughed at the video of me using the angle grinder – and still not using it properly!
This past year, we recall the struggles to fund raise through COVID lockdowns, the challenges of construction during the same restrictions, the disappointment of having to saying goodbye to our lovely Horse Chestnut tree but most of all Jill's determination that this garden project would be open for summer 2021 as we all begin to find our new normality.
Like a metaphor for what now needs to happen in our little country, with this garden the Museum is building back better. We do that with an increased appreciation of the value of community. We do that with a new understanding of the value of outdoor spaces and amenity. But mostly we do that with a sadness for those who have passed during COVID times. We hope this little oasis of reflection will become a special place of remembrance to help those denied the opportunity to grieve and bid farewell to loved ones in the normal way.
But we are not finished yet. The plants have to mature and more installations have yet to be added.
And as you wander the garden today, as a hint of our next chapter and ambition, please walk the new carefully positioned central pathway in the direction of the building and look forward with me to the day (we hope not too far in the future) when the entrance to the Museum can once more be through the fine portico which was the entranceway chosen by Italian architect Davis Ducart when he designed this majestic building in the mid-18th century for Limerick.
But today we take already a big step forward. We now have a garden built by our community for our community.
Badly designed, badly managed public spaces, like we had before, are likely to be located in the more deprived inner urban areas of our cities. But that is exactly where we most need to provide quality liveability space and cultural curiosity to combat any sense of daily despair or lack of belonging.
Poor spaces also send a terrible message to visitors and reduce a city's own sense of personal pride and esteem.
Well designed public spaces by contrast do just the opposite.
They lift our moods. They inspire us to do better. They create those little moments for a daily smile.
I hope that the project we unveil today continues to inspire the welcome recent trend of improving public realm in Limerick.
Public spaces should be open forums for ALL residents, bringing communities together, those living in happier times and those struggling to get by. They are what make the place one lives into a home.
Good public spaces should be accessible and open to all with no barrier to entry. Above all, we want OUR garden to be for ALL communities.
Combined with important civic amenities like the Museum, great public spaces ensure tightly knit communities where no one needs to feel lonely, where no one fears the night approaching and where no one has to cope alone with life's struggles.
I believe Limerick, whose river knows only too acutely the tragic consequences of mental health issues, must now place a premium on developing more of these community spaces. It is that belief that made it such a pleasure for our family to be able to support the construction of the community garden to remind us of my Dad, the ultimate Limerick builder and lover of this river.
Today, in this new waterfront public space for Limerick, we celebrate the work of the many volunteers marshalled by our own Linda Hall, we thank the generosity of so many funders, but most of all we acknowledge the innovation and tenacity and never say no spirit of our director Jill Cousins and her predecessor Naomi O'Nolan. Together, over six years, they navigated the many obstacles to this reality and without them we would not have this amazing garden.
Jill will provide more detail soon but on behalf of the Hunt board, I thank all of you and our own team so sincerely.
In concluding, I would like to leave you with a quote from one of my inspirations, the great urban designer, Jan Gehl from Copenhagen,:-
Let our Museum in the Garden become the place where people stay longer than necessary.
With our Museum in a Garden, we now tell the world, we are a people proud of our riverside location, proud of our heritage and proud to be able to share our home with ALL strangers.
"A good city is like a good party – people stay longer than really necessary because they are enjoying themselves."
Mile Buiochas for your presence, your support and for your attention.
John Moran