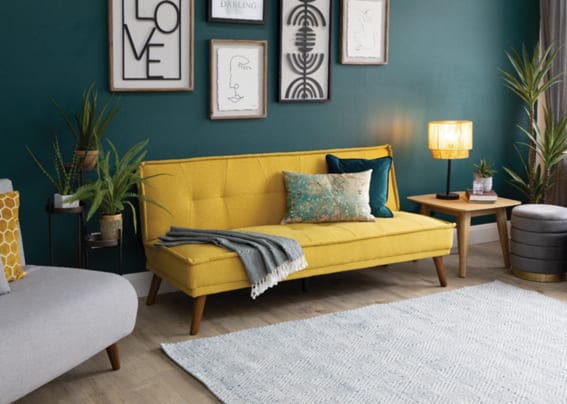 Sofa beds have changed a lot in the last few years. Remember when they used to be bulky and uncomfortable items of furniture?
Do you also recall how most individuals would rather have slept on a floor than subject themselves to a sofa bed's sagging mattress and protruding springs? But as always, things improve with time and this includes all items of furniture and sofa beds in particular.
Sofa beds are now purpose-built to be much stronger, more comfortable, and most importantly stylish. These developments have allowed for greater versatility, meaning that they can be placed in a sitting room, living room, bedroom and even an office or guest room. Here, EZ Living Furniture has listed reasons why a sofa bed is a good investment for your home.
Space-saving features
Every sofa bed will have its ups and downs, but each one is guaranteed to provide you with fantastic space-saving abilities. Simply put, a separate sofa and bed will cover a lot more area in a room than a two-in-one sofa-sleeper. Fortunately for you, this means that additional space will now become available to you that can be put to better use.
Money-saving
A sofa sleeper is a practical addition to any home, but did you know that it can also save you money? After all, purchasing an independent bed frame and a couch for your guest bedroom or study can be a costly experience if you value quality. To easily avoid this expense – buy a sofa bed. A sofa bed is a single item that can fulfil two separate functions, which is always extremely convenient and beneficial for your wallet.
Comfortable seating
Sofa beds and futons are just as cosy as a standard couch, we promise! They are made to be enjoyable for sitting on for prolonged periods during the day, and also sleeping on at night. Similar to a mattress or regular sofa, most will also have foam-filled seats and back cushions. You can expect this foam to last for a long time when treated gently.
Accommodate additional guests
Sofa by day, extra bed by night. If you enjoy having friends or family over to visit but can never allow them to stay over because of the lack of space in your home, fear not. A sofa bed can accommodate additional guests when space is at a premium. Not everyone has a spare bedroom these days, and that's why having a relaxing living room couch that can quickly turn into a guest bed is of great value to everyone.
EZ Living Furniture has a wide selection of sofa beds to choose from and they best part is they are all part of the amazing sofa sale which is happening now across all 14 stores across Irelands and online at www.ezlivingfurniture.ie/sofas
READ THE LATEST LIMERICK POST PROPERTY HERE