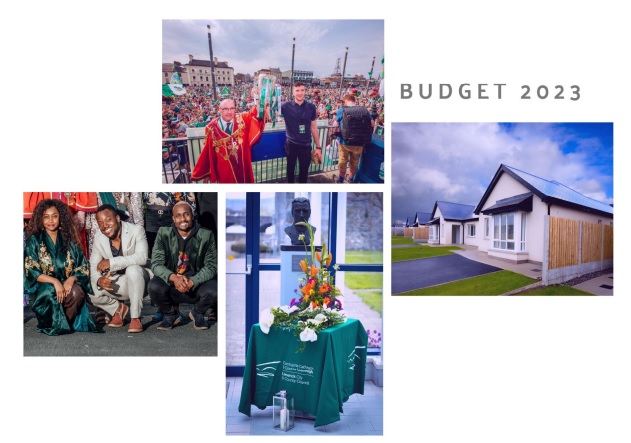 LIMERICK City and County Councillors have adopted a €1.25 billion revenue and capital budget to fund growth and expand council services over the coming year.
The budget, which includes a commercial rate increase, was adopted against a backdrop of an accelerating gap between the cost base and the income necessary to maintain services at current levels.
There will be no increases to parking charges, cemetery charges, local authority housing rents, planning fees, fire charges or fees at recycling centres.
While there is a 4.5 per cent  increase in commercial rates, the impact on small and medium enterprises will be offset by an increase in the Small and Medium Business Enterprise Support Scheme.
Funding raised by the rate increase is being ring-fenced to provide extra services as well as enhanced spending on tourism development, additional street cleaning and maintaining the library services.
It will also allow for leveraging Government funding on projects such as the 2027 Ryder Cup and the Newcastle West Athletics hub.
The total estimated expenditure amounts to €905.62 million, a decrease of €46.61 million on the figure adopted for 2022.
€674 million, or 74 per cent, of this is for HAP Shared Services, which Limerick runs on behalf of the 31 other local authorities. The remaining €231 million is allocated to day-to-day services for the citizens of Limerick.
The reduced activity in the HAP Shared Service Centre accounts for the majority of this decrease. As this expenditure is matched by a corresponding income, it has no net effect on the budget.
There will also be an increase in several budget areas that are subject to high demand including housing maintenance, footpath and road repair programmes.
Budgets for the key areas include:
Roads, lighting, road safety and traffic management – €47million;
Rental accommodation scheme, leasing – €14.7million;
Fire and Rescue Service – €11.4million;
Housing maintenance, Traveller and estate management – €8.5million;
Local Enterprise Office – €3.97million;
Street cleaning and illegal dumping control – €3.8million
Grass cutting, trees, horticulture, park maintenance – €2.6million
Earlier in the year, councillors voted for no change to the Local Property Tax from the 2022 levels which equates to  15 per cent above the base rate.
€2.36 million has been ring-fenced to support roads, traffic management and street cleaning (€768,000); urban and rural regeneration fund  (€550,000); local services (€442,000); investment in new plant (€400,000) and General Municipal Allocation  (€200,000).
Council chief executive Dr Pat Daly said that the Housing Capital programme continues to increase in line with the targets set out in the 'Housing for All' plan.
"The repurposing of the Troy Studios loan allowed the Council to leverage further national funding for a €20million programme to address voids and dereliction in the social housing stock. The budget also includes resource increases in the housing maintenance, Traveller accommodation and housing grants.
Referring to the 4.5 per cent increase in commercial rates,  Dr Daly said that in order to shield the SME sector from this increase, the budget reflects an enhanced SME scheme providing a rebate of 13.5 per cent subject to a limit of €1,500.
"There are areas we will also be looking to make significant gains in during 2023, not least the residential market. The recent announcement of the Residential Zoned Land Tax by the government is designed to stimulate the development of more housing across Limerick," he added.
The full budget can be seen here