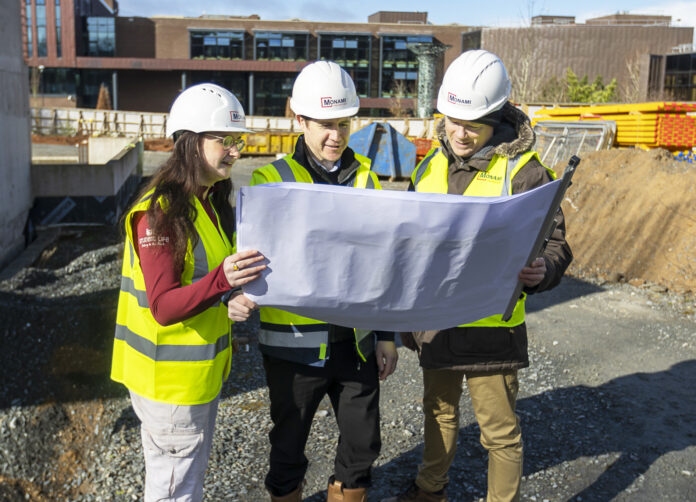 FOLLOWING a re-tender process, construction work on the €34 million University of Limerick student centre is back up and running with the building due for completion in mid-2024.
Galway-based Monami Construction has been appointed to complete the contract and work will get under way on Monday, March 20.
The new 3,529 square metre building set four storeys over basement, is located in a prime location adjacent to the Stables Complex and the Glucksman Library.
It will incorporate a landscaped roof garden on the first floor and new performance and event spaces, including a 230-seat capacity auditorium with retractable seating.
The facility is being funded on a partnership basis between the students and the University after students voted to fund almost 80 per cent of the capital cost through a development levy.
The building forms part a raft of new campus facilities that also include the 22-acre Maguire's Field pitches and the climbing wall at the UL Arena, which have already been completed.
The existing student centre in the Stables Courtyard dates to 1999 when the student population was half what it is now.
UL Student Life President Maeve Rutledge said the new centre is vital for the wider student body and they had worked hard to ensure there were no more delays, despite inflation and rising costs.
"We fought hard to secure a new tender and a reduction in the levy for current students and I am delighted to say we can finally deliver on what will be a world class student centre.
"I am grateful for the collaboration between UL and UL Student Life to ensure the final piece of the 'Leave a Legacy' campaign has been pushed over the line and we are looking forward to seeing a brand-new student facility on campus in 14 months' time," Ms Rutledge added.
UL Student Life General Manager Martin Ryan, said that in 2016 students voted in their thousands to leave a legacy of facilities on campus for the future students of UL.
"I am happy to say we are getting close to the finish line and the students of UL will have the final piece of the project when we open the doors in the summer of 2024 to a state-of-the-art building, unrivalled in Ireland," he added.