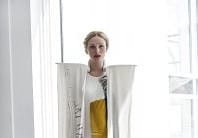 MICHAEL Stewart (24) from Kilkishen in Clare was announced the overall winner of The Limerick School of Art & Design, LIT, Graduate Fashion Show 2013 which took place in The Milk Market last night.
19 final year students showcased their awe-inspiring collections at the event, sponsored by Bord Gáis Networks.
Michael won the The Bord Gáis Networks Award for the Best Overall Collection Based on use of Fabric and Concept Development. The award includes a bursary of €2,500 to help kick-start his fashion career and a year's mentoring programme with retail expert Eddie Shanahan.
Michael's collection was inspired by worship, pagan rituals, shamanic ceremonies and the relationship between humans and the spirit world. Michael carried out his work placement in Giles in London and with Irish designer Natalie B Coleman.
The winner of the The AIB Business Development Award for the Collection Showing the Most Commercial Potential, which includes a bursary of €2,500, and a year's mentoring programme went to Svitlana Andryiets whose collection was influenced by the book "The Girl with the Dragon Tattoo" using diverse materials including neoprene cord.
The Blarney Woollen Mills Knitwear Graduate Design Award went to Lauren O'Reilly which includes a bursary of €2,000 and an internship for one year at the company. Lauren's vibrant collection 'The Pulzywoo' was based around frivolity of childhood play focusing on her own adoration of Barbie dolls as a child.
Fergal McGrath of Bord Gáis Networks presented the overall award to Michael and said, "Bord Gáis Networks has a long and proud history in this city and we are proud to be part of the drive to promote Limerick City as an international centre for fashion education and excellence."
Today, LSAD in partnership will host a special event as part "The Gathering 2013" as a selection of internationally renowned LSAD alumni Designers were invited to showcase their work at the Fashion Show and share their experience at the Fashion Seminar.