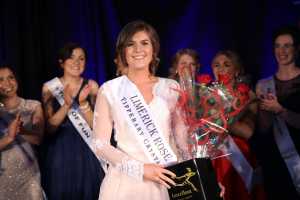 The Limerick Rose will appear on the televised Rose of Tralee Selection nights for the first time in 10 years.
Kayleigh Maher (24) is one of 16 Roses who were announced as qualifiers for the TV selections with Dáithí Ó Sé in the Dome next Monday and Tuesday night.
A total of 32 Roses will ultimately qualify for the TV selections with the names of another 16 Roses set to be announced at a private breakfast tomorrow (Saturday).
The first 16 Roses are Down, Dublin, Fermanagh, Florida, Galway, Germany, Hong Kong, Kildare, Limerick, Offaly, San Francisco, South Carolina, Sydney, Texas, Toronto and Yorkshire.
The secondary school English teacher says she is still taking it all in.
"It really is surreal," said Kayleigh, adding, "My life never kind of works out according to plan. So I was even saying if, and a massive if, I was to be lucky enough to be in the top 32 to make it to make stage I was never going to be called out on the Thursday night. That's the mentality I went in with."
The Mayor of the City and County of Limerick, Cllr Stephen Keary is congratulating the Limerick Rose Kayleigh Maher on being chosen to go through to the live TV stage of the Rose of Tralee competition.
The 24-year-old secondary school teacher from Kilcornan was one of 16 finalists announced at an event in The Dome last night, hosted by Marty Morrissey.
Mayor Stephen Keary said, "I'm delighted that Kayleigh has been chosen as one of the finalists for the TV phase of the competition. I've met Kayleigh and she is a wonderful role model for all people from Limerick. She is and will do Limerick proud."
"Kayleigh's success in being selected for the final ends a ten-year wait for the Limerick Rose entrant. This is the first year since 2007 that the Limerick Rose will be seen on the stage in the Dome during the televised section."
"She has the support of the entire city and county of Limerick and especially her home parish of Kilcornan. We are all behind Kayleigh and look forward to seeing her on the television next week."