CALLS for criminal proceedings to be brought against insurance fraudsters and for insurance companies to explain themselves over the spiralling costs of premiums came from the Limerick local authority this week.
Deputy Mayor Adam Teskey (FG) tabled a motion calling on Justice Minister Charlie Flanagan to establish a Garda insurance fraud unit and an Interim Judicial Council to address excessive court awards.
Sign up for the weekly Limerick Post newsletter
He also called for "greater transparency in relation to claims and premiums."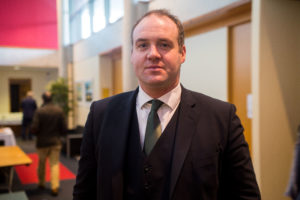 "We are seeing community organisations crippled. Businesses are trying to keep afloat and are finding it extremely difficult."
Cllr Emmet O'Brien (Ind) said that it would be wrong to suggest that people who suffer genuine injury should not be compensated "but this is affecting everyone".
He said that a local regatta had to be cancelled because of insurance costs.
Cllr Kevin Sheahan (FF) said that the insurance companies have become "anti-jobs".
"The shutters are coming down on businesses all over Limerick because of it. One lady who runs a tourism business told me that her premium went from €20,000 to €40,000 and that doesn't cover her to make a cup of tea. She wanted to offer tea and coffee to people visiting and she was told she couldn't do it."
Cllr Richard O'Donoghue (Ind) said that a man who had "ten years of no claims on his insurance had a huge hike and when he asked why, he was told that statistically, he could be a danger. If they are going to use statistics use them to find those people who are serial claimers."
Cllr John Sheahan (FG) said there "should be some sort of national insurance scheme for young drivers to help them get started."
He added that the for-profit insurance companies "are charging what they like".